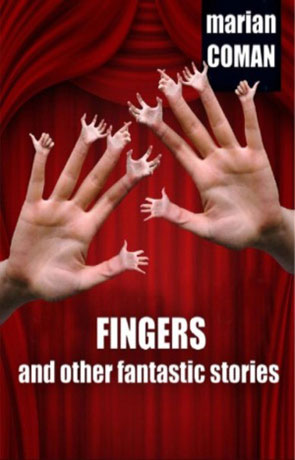 Book details
Fingers and other Fantastic Stories

Publisher:

ISBN:

Published:

August 2011

Pages:

Format reviewed:

E Book

Review date:

05/12/2011

Language:

English

Age Range:

N/A
Fingers and other Fantastic Stories is an anthology by the talented Romanian author Marian Coman, current editor in chief of the newspaper "Obiectiv - Vocea Br'ilei" and a very talented writer. Fingers is his first work to be translated from his own language and includes four short stories that were originally released in the Romanian anthology "Nop'i Albe, Zile Negre" (White Nights, Black Days).

Something has to be said of the cover, it's not often that a picture has the power to unerve me but there is something very uncomfortable about a couple of hands that sprout hands of their own from the fingers and the image really did give me the creeps. The stories themselves are very well translated and still manage to retain a distinctive, Romanian style. Each story is individual in style and delivers a different message, each a simple snapshot in the world of Romanian writing.

While it was very interesting to see these stories from another culture they didn't quite work for me, I don't think it was anything to do with the translation but more the substance of the stories themselves which felt a little empty, the style lacking an emotional punch and all but one story lacked a satisfying ending.

These stories are worth reading just for the insight into a different culture and the way that science fiction is handled in another country.

Fingers
The longest story in the collection, Fingers is a strange tale about a man's relationship with a wart on his right finger and is set against a communist backdrop. quite surreal and eerie and the strongest story in the collection.

The Bathroom Door
This is an alternative reality story of a boy who moves with his parents into a new place and finds that the bathroom door connects to a different universe. There is a pervasice dark humour running through-out along with a dark, foreboding atmosphere.

Unwired
Unwired is a very short story, it's main theme is that of the human condition, a small group of people who find themselves on an island after some cataclysmic event and amid them a small boy who is different from the rest of the group, struggling for some form of acceptance.

Between Walls
A bunch of Monks in a Romanian Monastery find themselves unsettled by some very strange noises within the very walls but there is also an atmosphere that may be linked to the same problem. A quite subtle story and for me the one that worked the best.
Written on 5th December 2011 by Ant .
You may also like