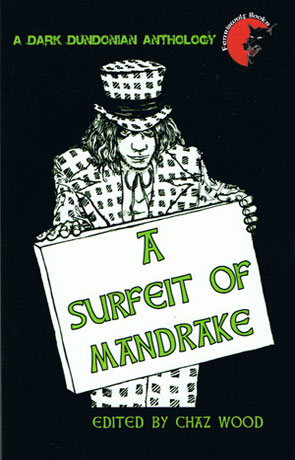 Book details
A surfeit of mandrake

Publisher:

ISBN:

Published:

December 2008

Pages:

196

Format reviewed:

Paperback

Review date:

05/02/2009

Language:

English

Age Range:

N/A
A surfeit of mandrake is a short story Anthology which includes elements of fantasy, science fiction, history poems and original artwork. Edited by Chaz Wood and written by a diverse group of Dundonian's.

Surfeit - "An excessive amount of something"
Mandrake - a plant belonging to the nightshades family that has been traditionally used magic rituals and religions such as the neo-pagan and revivalist. It's mentioned in the old testament as an aid to fertility, also believed by some Asian cultures.

The name implies the overall tone of the collection, a dark ages - medieval feel that suggests long forgotten folk tales and stories passed along the ages by word of mouth.

With any anthology you get a real mixture of styles, quality and story telling ability and as such it becomes difficult for a reviewer to really rate the book accurately. The editor deserves an applause for both managing to blend these styles and for his own pieces (I particularly liked the Old Frog story). Other highlights include "The Labourers Hire", it's sequel "Novice" by J I Stuart, a tale of alien "abduction" with a twist and "Too Goth to Live, Too Drunk to Die" by Lesley-Anne Brewster.

Full of offbeat humour and pretty crazy ideas, A surfeit of mandrake is a convoluted but fun book to pick up and read.
Written on 5th February 2009 by Ant .
You may also like