Nettle and Bone
By T Kingfisher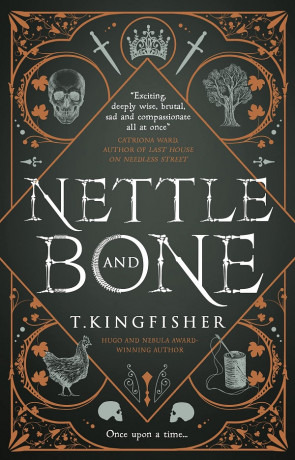 Book details
Nettle and Bone

ISBN:

9781789098273

Published:

April 2022

Pages:

319

Format reviewed:

Paperback

Review date:

26/04/2022

Language:

English
I have read many genre books and I see trends in what is currently popular or going through a period of high quality. The dark gothic fairy tale is having a moment in the sun as I have recently read some excellent stories that hark back to a feel of past fables but are their own modern take. T Kingfisher captures the tone perfectly in Nettle and Bone, the story of a Princess turned Nun, who wants to be an assassin. Princess Marra questions if she is in a fairy tale, if she is, then it is a tale of weaving bones to make dogs and Godmothers who can only hand out curses.
Princess Marra is the third daughter of an unimportant Kingdom, its only asset the deep harbour it sits on. This harbour is enough to put the Kingdom under threat from stronger forces. The King and Queen decide to marry off their oldest daughter to a Prince in the North. When this Princess dies, the second oldest is sent. Marra is packed off to a convent for safety, but when she realises that her second sister is in danger, she sets off on a quest to save her that will have her seeking out witches and visiting the Goblin Market.
Nettle is a fantasy novel, but it has the essence of a fable, the fantasy of their time. The book has witches, curses, magic, and murder. All the type of thing you would expect from the Brothers Grimm, but the book also has a modern feel. It is also a book about companionship and women taking control of their own destiny. Marra is such a sympathetic character because her reasons are so pure. She sets out on an adventure knowing little about the wider world, but somehow manages to survive.
Over the novel Marra picks up various companions to help in her quest. This pseudo-family becomes the heart of the book and gives Marra more to live for than being a Princess or a Nun. Characters such as the Dirt-Wife and borderline useless Godmother offer a great back and forth, giving the book life.
The story opens on a dark scene as Marra must undertake some grisly tasks if she is to gain the aid of the Dust-Wife. The book does have a dark gothic feel to it, but the relationships made it a lighter book to read. The structure is well done so that the tale rattles along at a good pace making it a very readable book. The type of novel that you pick up thinking to read a chapter or two, only to realise that you read the entire book.
I thoroughly enjoyed reading Nettle and Bone. With such a solid structure the book was a joy to be in the company of. The characters all had their quirks, but you could feel the pureness of heart in them that made even the darker elements of the book feel lighter. This is book that would appeal to fantasy fans as it has many elements of that genre, but it works even better for those that like their fantasy to acknowledge myths, folklore, and fairy tales. Kingfisher has been able to capture the sense of magical lands that make fairy tales timeless, and then juxtaposed this perfectly in the character of Marra, who just sees themselves as a normal person. As normal a person as a Princess can be that is.
You may also like