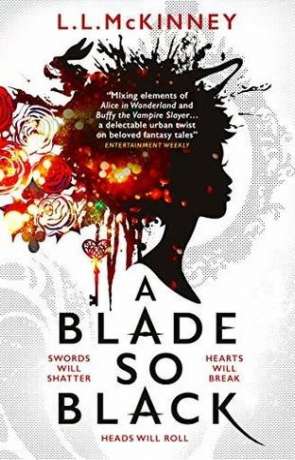 Book details
A Blade so Black

Publisher:

ISBN:

9781789090055

Published:

September 2018

Pages:

384

Format reviewed:

Paperback

Review date:

15/11/2018

Language:

English
Popstars of the 60s dread their back catalogue going into the public domain. Their retirement fund has now been opened to everyone to listen to for free. If you think that is sad, please spare a moment for the poor authors who have long died and whose work is open to all. The likes of Shakespeare, Doyle and Carroll have had their work rewritten and reinterpreted hundreds of times. Sometimes this is done well and lets you explore the originals in a new light. Other times it just feels like a modern writer who is not prepared to create a coherent set of characters and world themselves.
Alice lives in Atlanta, but at night she enters the world of Wonderland to fight off the creatures of Nightmare who would enter our own world to force people to undertake despicable crimes. Being a teenager at school Alice must balance fighting to save the world with school and her love life (as minute as that is). When the Nightmares become more regular and powerful it is easy to see that something is amiss. Alice must go up against one of the most formidable foes that Wonderland has to offer.
I am partial to a bit of Urban Fantasy and also don't mind a modern retelling of a classic tale, but it must be done well. Don't you dare stand on the shoulders of giants if all you plan to do is rummage through their hair for spare change. A Blade so Black by L L Mckinney feels like this. Taking Alice in Wonderland and moving it to Atlanta with a black protagonist means that it should be completely different from the original and it is. Just so much so that there is little point it being based on Carroll's books in the first place.
At times it feels like Mckinney has not remade Alice in Wonderland, but has continued the story. Our modern Alice lives in the present and the book touches on what has gone on before. This is an interesting choice by the author and is ripe for bringing in classic characters into theto the realms of Urban Fantasy, but then things become muddied. It would appear that this is not a continuation of the originals after all as some characters are more than one person and in the case of the Tweedles, they are not even from Wonderland. Mckinney starts to unravel the fabric of the original text.
At this point you start to wonder why even bother using the Wonderland brand? Some of the places and names are the same, but this is some bastardised version of the Carroll text with Mckinney's own. A fan of the original will be annoyed with someone taking the ideas, whilst new Urban Fantasy fans may be lost as you do need to know a little about Wonderland to really understand what is happening.
This messy splicing of new and old could be forgiven had Mckinney provided a book that was a little more readable. Already confusing due to the Wonderland way of speaking, the book is not helped by some bland action set pieces. They are epic, but a few bangs don't really mean much if you are not sure what is going on. The relationships in the book are also a required taste; very teen fiction to the point that I thought the book may have slipped out of the juvenile literature section.
If 'A Blade So Black' had been about original characters and settings I would have reviewed it a little more generously, but seeing as Mckinney choice to take from a great, the standard must be higher. This book is confused, childish and a little dull in places and should not really be linked to the legacy of the originals.
You may also like