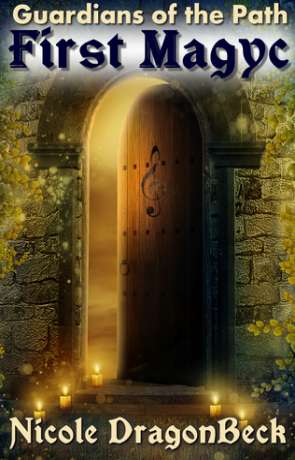 Book details
First Magyc

Publisher:

ISBN:

B00UW4BI82

Published:

April 2015

Pages:

335

Format reviewed:

E-Book

Review date:

14/09/2016

Language:

English

Age Range:

13-
First Magyc, by Nicole Dragonbeck, the first book in the Guardians of the Path series is essentially a Young Adult portal fantasy where a girl, Ria, gets drawn into a magical land and it turns out she might be the subject of an ancient prophecy where only she can save the magic.  While the premise of the book is not entirely original and the spelling of the title a little pretentious, the tale is nevertheless entertaining. 
The fantasy land itself has some original and compelling concepts, the Guardians are those who can access magic via music and protect the realm from demons, use magic in different ways which allows a sense of discovery each time a new Guardian is encountered.  The motivation of the Guardians is intriguing, the response of the people in the world swings from vilification to hero worship and there is clearly a complex past to the characters that remains largely unexplained.  This gives the world a sense of having a history and not having just sprung up overnight, but leaves the reader a little frustrated with the elements that are still unknown, but perhaps engenders a motivation to read the books which follow in the hope of satisfaction. 
The character of Ria is used to draw the reader in, to aid in the transition from the real world to the fantasy world, her lack of knowledge reflects the readers lack of knowledge and we discover the world with her.  Her naivety of trusting a man she has just met, who slit her throat (without asking) to access magic and return to his home is a little jarring and her lack of desire to leave him and return home, while necessary from a plot point of view is perhaps unrealistic also. 
Despite being a traditional fantasy realm, the book shows some interesting shades of grey, rather than perhaps the more expected black and white.  The lovely touches include the demon that seems to have a mission beyond killing others and the Guardian who is tracking it rather than destroying it, despite the fact it does kill innocents to live, the moral quandary is interesting. 
Overall it is an accessible read with some fascinating concepts and a good read for those who are new to the fantasy genre.
You may also like