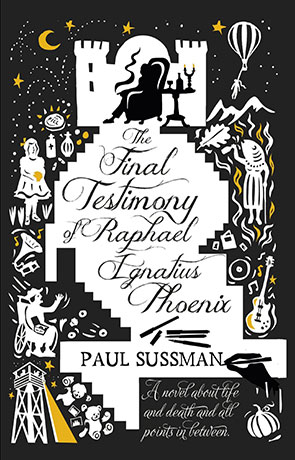 Book details
The Final Testimony of Raphael Ignatius Phoenix

Publisher:

ISBN:

978-0857522184

Published:

22 May 2014

Pages:

368

Format reviewed:

Hardback

Review date:

22/09/2014

Language:

English

Age Range:

N/A
There is a bittersweet air that surrounds the publication of The Final Testimony of Raphael Ignatius Phoenix. It was the authors very first work and yet it has also proved to be his last. Paul Sussman passed away at the untimely age of 45 in May 2012. The book remained unpublished until his wife made the admirable decision to allow the world to see a glimpse of this authors genius. The fact that the book charters the life of a character who plans on also dying having completed his "final testimony" adds to the atmosphere.
The character Raphael Ignatius Phoenix (initials R.I.P.) is about to celebrate his 100th birthday at the turn of the new Millenium. He decides it will be his last but before shuffling of this mortal coil he will tell the tale of his 100 years on the planet. His canvas is the walls of an ancient building set in the countryside, a place that will be his final residence.
The book switches between the present and his narration of his past life, specifically his life surrounding each of the murders he has perpitrated. Raphael narrates these stories with the most recent first (while in a carehome for the elderly) and going backwards towards the previous millenium.
The character of Raphael is inspired. Quirky, more than a little crazy and quite malevolent, the life of Raphael is at times an exploration into the mind of a sociopath. He also creates an incredibly effective unreliable narrator and the book keeps you guessing throughout what is really going on. I loved the character of Raphael, his charisma is unbounded and his scheming and dry wit really draws you in - He's a character who for all his murderess faults is impossible to not like.
In many ways it's like watching an episode of Dexter. You know he's a murderer and yet you are rooted to watching him and at times, rooting for him.
The novel is also an exploration about the mind and how experiences can change our preceptions, creating fractures and facades. It's a study of the human condition and the life and times of a successful sociopath. This experience is enhanced by the mysterious Emily who seems to turn up just as Raphaels' life changes.
The Final Testimony of Raphael Ignatius Phoenix is one of a kind, a singular experience. It has a dark humour, intelligent dialogue and is at times both witty and charming. Inventive and ironic, it is simply one of the finest novels I have read in a long time.
Written on 22nd September 2014 by Ant .
You may also like