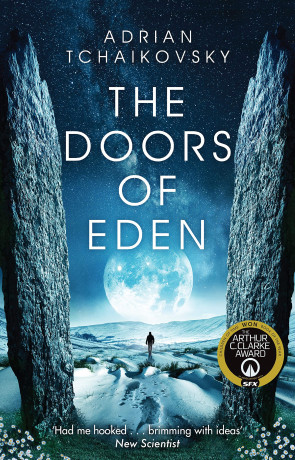 Book details
The Doors of Eden

Publisher:

ISBN:

9781509865888

Published:

August 2020

Pages:

608

Format reviewed:

Hardback

Review date:

12/08/2020

Language:

English
About the author
Adrian Tchaikovsky has a talent for writing deep, meaningful scifi. He won the Arthur C Clarke award in 2016 for Children of Time and the 2019 BSFA best novel award for the follow-up Children of Ruin. There are few authors that can quite match his vision for non-human intelligence, or his flair for writing about alien worlds and future post-human societies.
The Doors of Eden is a journey that is rooted closer to home than most of his previous stories, set in the present day earth (pre covid 19), it imagines that the barrier between alternative realities is thin enough that it can, and does, have breaches - gaps that can be traversed. Lee and her partner Mal are crypoid fans, always looking to find evidence of elusive, mythical creatures whenever they can. They find themselves on Bodmin Moor after seeing a Youtube video surface that seems to show some mysterious bird-man type creature on a farm nearby. Things don't go as planned and Mal disappears, leaving Lee alone in the wilderness. Mal remains missing for four years and is presumed dead, until one day she just reappears, without any phone call, message or warning. But she isn't alone and other creatures, some not too friendly seem to have found the same path. Mal's return doesn't go unnoticed, with MI5 agents Julian and Alison on her trial, as is ex-army guy Lucas May who seems to know a lot more about these events than he has any right to. All of them are trying to get to the gifted scientist Dr Kay Amal Khan - but even she doesn't really know why (other than the fact they are in a whole heap of trouble).
I've always known that Tchaikovsky is talented, but The Doors of Eden is something else. Setting the book in the present day helps to ground the story, but it's not just that. The characters he creates are relatable anti-heroes, endearing in their human weaknesses and qualities. Even the MI5 agents, which some authors would have been tempted to write as a Jack Reacher or James Bond type, are just as realistic and fallible as the rest - completely out of their depth with such other-worldly shenannigans, but just about coping all the same. The story is pretty clever too, I love the way the author deals with the parallel dimension / alternate Earth theory and the way he wraps the story around this is just genius. The central themes of time, causality, history, parallel realities, biology, diversity and evolution are all not only well researched, but clearly understood enough to explain to those who don't know anything about them. This is supported by the fact I gave this book to my Mum to read (someone who usually abstains from science fiction, favouring fantasy novels) who absolutely loved it.
One of my favourite parts about the book are the sections between chapters that describe one alternative evolution of Earth each time. Not only does it help to explain evolutionary events in laymans terms, but it does so in such an engaging way. There are some Earths that have not evolved past the primordial goo, others where non-simian life is prevalent. We get to read more about some of these alternatives in the story too - my favourite by far being creatures who have evolved from rats along with a vast, space faring race which has to be read to be believed.
The Doors of Eden is a triumph, the author's best work yet. The pace never falters and yet there is room to explore the big ideas. The story works perfectly with a strong ending, managing to pull together the different threads of the journey into a coherent and rewarding finale. I can't recommend this book enough, it's got a great cast, story and big ideas presented in a way that still can be understood by anyone.
Written on 12th August 2020 by Ant .
You may also like