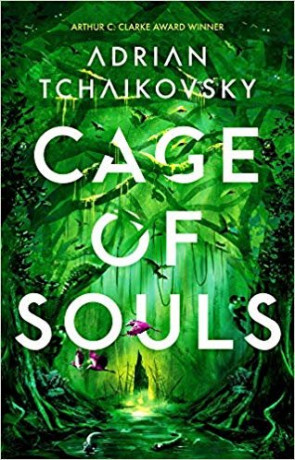 Book details
Cage of Souls

Publisher:

Head of Zeus

ISBN:

9781788547246

Published:

April 2019

Pages:

608

Format reviewed:

Hardback

Review date:

05/08/2019

Language:

English
About the author
A change of pace and approach from Adrian Tchaikovsky, Cage of Souls is a first-person past narrative, presented as a journal. This is a collection of writings from Stefan Advani, the chronicler of the last days of the last city of humankind – Shadrapar.
Our story begins with Stefan being brought to The Island – the place where captured criminals and dissidents from the Shadrapar regime are sent. Stefan falls into the latter category, as we gradually learn through a series of revelations about his life that he recounts and later through extended flashbacks to other interesting periods of his past.
Tchaikovsky's ruined setting for Cage of Souls could very well be the same setting as his Children of Time novels. There are enough hints about the fall of humanity and the rise of other intelligent species to suggest the Rus-Calif virus has been at work in uplifting a host of different creatures that have evolved in the remnants of this world, which could indeed be a future Earth. That said, Cage of Souls has a very different style to these novels. Elements of humanity's past are hinted at, rather than fully revealed, which demonstrates considerable restraint from the author who has indulged in weighty exposition in the past. In this case, less is definitely more as the reader is left to linger over what might have been in this world on the brink. Leaving these fragments as fragments and myths, invites us into the mythology, rather than dictating it.
Stefan's journal is actually a selection of episodes from his life, the first being the most relevant to now, and being the one which we return to for the conclusion. At times during the read, the conformity to a book's traditional layout did feel like a constraint upon this device. House of Leaves by Mark Z. Danielewski, published in 2001 and S by J. J. Abrams published in 2013 both eschew this structure and are much better books for the way in which their stories are presented as interconnected narratives, as these allow the writer to cut loose with all sorts of little snippets about the setting and context, reinforcing different moments with alternative perspectives and the like. However, Tchaikovsky is not trying to introduce multiple narrators in his work as Danielewski was.
The characters of Cage of Souls are seen through the eyes of Stefan Advani. As such, our narrator is pleasant enough, but with some subtle flaws. One notable one is the way in which he idolises the women in his life, apart from his cellmate, Hermione, who clearly doesn't meet his standard of physical attractiveness, a point the author addresses at the end of the book. There is an undercurrent here which could have been developed further but remains opaque. In a way this matches the narrator's viewpoint and rationalises the viewpoint of Hermione when she observes how little she has impacted on Advani's recollection of events, meriting a character sketch of only a sentence or two, but this also serves to suggest the matter as being insignificant.
Nevertheless, Cage of Souls is an excellent standalone post-apocalyptic story of survival and loss.
You may also like