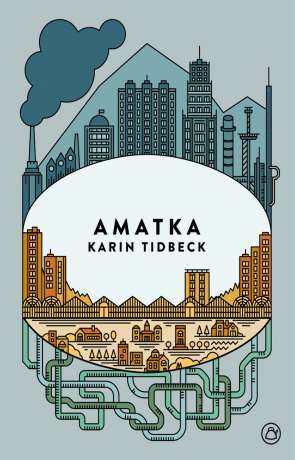 Book details
Amatka

Publisher:

ISBN:

978-1101973950

Published:

June 2017

Pages:

320

Format reviewed:

Paperback

Review date:

16/05/2017

Language:

English
Karin Tidbeck has written a number of short-stories, her first english Language collection (firmly rooted in Weird Fiction), Jagannath, was nominated for the World Fantasy award and short-listed for the James Tiptree Junior award. It also received wide-spread critical acclaim. Amatka is her first novel length story.
Set in a world where the fabric of reality is shaped by language, Amatka tells the story of information assistant Vanja who is sent from her home city of Essre to the austere and wintry colony of Amatka to collect intelligence for the government. Vanja only intends a brief visit but while there falls in love with her housemate, Nina. People are acting oddly in this small town and are constantly monitored for signs of subversion. Then she stumbles upon a growing threat to the colony and a cover-up by it's administration, a discovery that puts her at serious risk.
Amatka is quite different to anything I've read before. It leans heavily towards weird fiction and draws some parallels to China Meiville's work. It is however unique, with a strong and compelling voice. A dystopian fantasy where the nature of reality is shaped by the spoken and written word. This way that objects are kept in working condition is to write the word on the object and to recite the word verbally. As the writing deteriorates so does the object, eventually if left un-described reverting to a pool of goo that can spread and damage other objects. The only exception to this rule appears to be items that are clearly trace-able to the world before, such as the paper used for labelling items, which is called "good paper".
As far as backstory is concerned we get small glimpses and nothing more. It's clear that most of these objects are left-over from a different time and world (perhaps our own). But it isn't clear how anything got to the present world where Amatka is based. This world is a grey one, devoid of sun or stars, a world where the population are strictly controlled. Failure to follow the rules leads to reconditioning.
This is very clever fiction, it asks some big questions about society and the repression of creativity to keep control. About social conditioning and the seeds of rebellion. The writing is clever, even more so when you realise the author has written the novel in both Swedish and English. The ending to the novel is superb, it's sudden and sharp and leaves more questions than it answers - it reminded me of the way Philip K Dick often ended his stories.
The bleak backdrop and simplistic tone also reminds me of PKD's writing, it belies the complexity of the story and the subtlety of its many messages. It's progressive, modern fiction at its very best. I loved the quirky wierdness, while the writing is hugely engaging.
A book to get lost in, highly recommended for lovers of modern fiction.
Written on 16th May 2017 by Ant .
You may also like