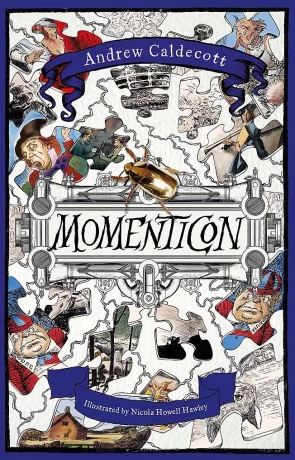 Book details
Momenticon

ISBN:

9781529415445

Published:

May 2022

Pages:

360

Format reviewed:

Paperback

Review date:

24/05/2022

Language:

English
I adore science fiction, but it also frustrates me. I consider myself reasonably well read and clever enough to cope with most books, but occasionally a science fiction book comes along that I just cannot get my head around. Momenticon by Andrew Caldecott is a Bizzaro take on a dystopian future that is both fun and one of the bleakest books I have read in a long time. Its might just take a more intelligent person than I to get what is going on, but at least everyone can enjoy elements of the ride in a book that is unlike anything else you have read this year (unless you plan to re-read some old Jasper Fforde).
Civilisation as we know it no longer exists, those that have survived the harsh weather now live in a few protected bubbles that dot the landscape. What remaining resources are fought over by two powerful families whose truce is about to expire. If you only have limited resources left what do you concentrate on? Food, shelter or reproducing classical painting with humans? In this bizarre world, we are all going to hell in a handcart, and it feels like there is little that museum curator Fogg can do about it.
It is hard to pigeonhole Momenticon and that is both to its benefit and hinderance. It is science fiction for sure and dystopian at that. This is bleak version of the future in which most people are now dead and those that live must survive under the whim of a few rich families. It is also an absurdist novel. To entertain the masses there are techniques of recreating classic images and paintings, be they in the form of hallucinogenic pills or by re-enactment.
The characters in the book feel like they are playing fiddle as the world burns around them and the book also takes on this trait. When Caldecott could be concentrating on a narrative, the story becomes lost once again in another classical painting that interests the author but confused this reader. In parts, I found this novel hard to follow. I always found Alice through the Looking Glass a bizarre and complex idea, no matter how many times it is adapted. Caldecott further confuses matters by adding Alice elements to the living paintings.
I have to believe that there is a novel in Momenticon that I am just not getting and that others will love. It is intelligent and full of classical references – few of which I could follow. The character of Fogg is a sympathetic one and you follow him on some hapless adventures. There are also some other characters that drive the story forwards such as the mysterious woman who lives in the Museum ceiling.
I do not know what Momenticon is. It is meant to be absurdist comedy like the often-mentioned Alice. However, like that book, and even more so, it is also far too dark. The main baddy in this book is horrible and you do not want to laugh much. In this the book has elements of a fantasy saga as powerful families will do anything for power. As a reader I look for the positives in any book I read and here I saw an intellect and imagination. However, I also found myself confused and not really understanding what was happening in section.
You may also like