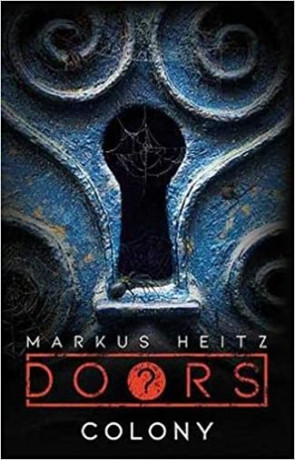 Book details
Colony

Series:

Doors

Publisher:

ISBN:

9781529402346

Published:

March 2021

Pages:

352

Format reviewed:

Paperback

Review date:

04/03/2021

Language:

English
Books in the series
About the author
Over the next three days, three reviews will stand before you. Read them in any order, some elements will be the same, others quite different. If you would like to go straight to the segment unique to this review, please start with paragraph 4.
Drafting a book must be like standing in front of a series of doors, which one do you step thorough? Each option will make the novel a vastly different read, characters could be good or bad, the world may implode or explode. Like parallel universes, these differences are infinite, each option creates more options. An infinite library of books never quite written. Markus Heitz decided to experiment with this idea with his three Doors novels. Each starts the same, but then diverges.
Walter van Dam's daughter has gone missing within a series of underground tunnels and he will do anything to see her return. He is rich enough to hire some of the best to find her; a Professor of Geology and a couple of cave explorers make sense, but why also have a bodyguard, paranormal expert, and clairvoyant? It seems that these tunnels are not as they first seem. Gravity seems to fail, and monsters stalk the dark. Strangest of all are the doors found deep below the surface. Which door will our rescuers open?
In Colony the team decide to open the door with the ? Inscribed on the front. Within it is not more cave formations, but instead a portal to a different past. It is 1944 and in this Germany the allies have beaten Hitler, but the American and British forces have turned their attention to Communist Russia. The team must find van Dam's daughter among the bombed-out buildings and avoid being mistaken as Nazi sympathisers or a Communist cell.
The world building in Colony is interesting as it comes in two parts: the alternative history and the present. The books jump between the two as the rescue team explore US occupied Germany, whilst van Dam uses his family archives to try and discovery the mystery behind the doors. I enjoyed the idea of the Americans and Brits being as bad as the Nazis. It is not long until you realise that the US will do anything to rid the world of Communism. Your allegiances jump around with the characters as it is hard to know who to trust.
The contemporary storyline plays out far more mysteriously. There are hints of shadowy corporations and networks of failing portals. Unlike with the World War Two story, this X Files like mystery is explored in all three novels, from slightly different perspectives. Over the three books you will get a fuller sense of what might be happening. Whilst it made complete sense to have such different adventures behind the doors, it was a little odd that events diverge so much in the present, when not much has changed.
There are a lot of interesting ideas throughout the Doors experiment, but these are not intellectual books, instead they are action thrillers. The cast are invariably expendable and get picked off one by one, often in a very gruesome manner. Fear not, as your favourite may die early here, but will star in another outing. Some of the action felt exploitative for my tastes, but readers who enjoy straight action and bloody consequences will enjoy many of these scenes. It reminded me of the type of crazed abandonment that someone like Matthew Reilly brings to their novels. Colony does not always make the most sense, but you should enjoy the ride.
The Doors series is translated from German and has locations and characters from the country. In the case of Colony this works as an alternative 1944 perspective from Germany is even more intriguing than from a British or American writer. I am a student of history so was on board for how the war may have panned out differently. Reading all three books together gives a better insight into the present storyline, while the adventures behind the doors stand alone. With its gung-ho action and ephemeral characters, Colony is a book aimed more at the action Science Fiction fan who just wants a quick and enjoyable read.
You may also like