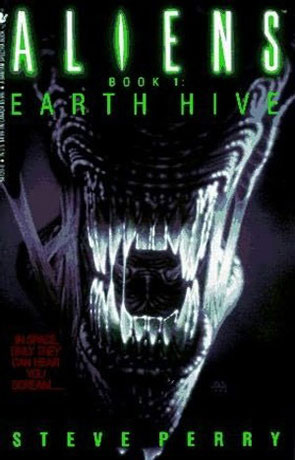 Book details
Earth Hive

Series:

Aliens Series

Publisher:

ISBN:

978-1857981391

Published:

October 1992

Pages:

278

Format reviewed:

Paperback

Review date:

09/12/2014

Language:

English

Age Range:

15-
Books in the series
About the author
In 1992, Steve Perry wrote the first novels based on the Dark Horse comics Aliens. Somehow, I missed these books as a teen. Although, I was familiar with the comics.
Aliens: Earth Hive is the first exciting, action-packed thriller in the series. The story is unique from the movies, so I won't compare any in this series to the films. If you think of the series independently, it makes them a lot more enjoyable. And heck! They are fun readings! Although, there are some obvious name changing and story line tampering that deviates from the movies, which drives some readers crazy. As mentioned, don't compare them to the movies! But for the sake of those who may find an old copy and read this book, do know that Ellen Ripley is replaced by Colonial Marine Wilks, and Newt (from Aliens) is replaced by Billie (still a girl). So, the series does "technically" proceed Aliens.
Wilks and Billie reunite years after Wilks saves her life on LV426. Both are thrown into a desperate mission to recover an alien specimen, so that the American government can compete with Weyland-Yutani as the race to turn the alien species into the ultimate weapon escalates into something cataclysmic. Added to the duo is a young Colonial Marine turned mercenary named Bueller, whose secrets will change Billie forever.
Young love is tested, and the answer to what it means to be human is more important now than ever before.
Filled with suspense, great characters, and just downright fun! Alien: Earth Hive is great science fiction! I look forward to the next in the series, also by Perry, Aliens: Nightmare Asylum.
You may also like