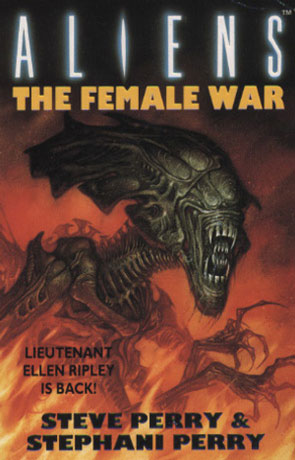 Book details
Aliens the Female War

Series:

Aliens Series

Publisher:

ISBN:

978-1857981438

Published:

June 1994

Pages:

288

Format reviewed:

Paperback

Review date:

06/02/2015

Language:

English

Age Range:

N/A
Books in the series
About the author
Steve Perry recruits his daughter, writer Stephani Perry, to conclude a separate storyline to one of the best SciFi franchises of all time. Filled with plenty of Xenomorph-action and a conclusion that no one would guess, Aliens: The Female War rocks hard and entertains like a champ!
Now joined by Ellen Ripley, Wilks and Billie's story picks up immediately after meeting Ripley at the end of book two. With Earth's future still hanging in the balance and much of humanity destroyed by the black-chitin armored alien soldiers, our protagonists must capture the ultimate weapon if humanity is to ever recover and rebuild from the alien apocalypse: the Queen. But not just any queen, for there are now thousands of queens on our home planet and else where in the galaxy. The Queen of queens is calling out to Ripley and Billie and some of the residents on a remote refugee planet in one of the core systems. Assembling a team, Ripley and Wilks leads a crew of unprepared soldiers, scientists, and a hacker to capture the Queen on her home planet and bring her to Earth as bait. With the hopes of luring all of the Xenomorph's to one place, maybe then they can initiate one of the dozens of nukes that were suppose to go off at the end of book one. Apparently, a nuclear ridden planet is preferred to a Xeno-infested one.
Surprising and satisfying, Aliens: The Female War is a good conclusion to a great series. My main complaint is that the plot advances very quickly and the ending felt rushed. Closures on the lives of the characters are nonexistent at the end of the novel. I suppose this is purposeful since there were plans to continue the novels.
Although the series continues without Steve Perry. Stephani Perry joins the list of other writers. The three part series with Steve Perry stand on their own and are very enjoyable. They are a great novelization to the Dark Horse comics and are all around good science fiction.
The series as a whole gets five stars.
You may also like