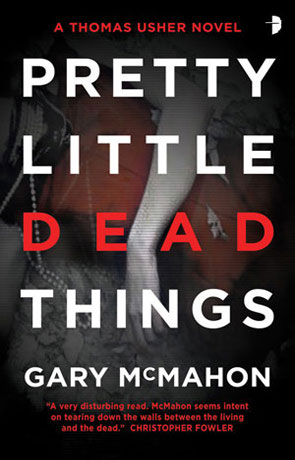 Book details
Pretty Little Dead Things

Publisher:

ISBN:

Published:

November 2010

Pages:

416

Format reviewed:

Paperback

Review date:

21/10/2010

Language:

English

Age Range:

N/A
Pretty Little Dead Things is a urban horror novel by the author Gary McMahon.

Thomas Usher used to be a fairly normal guy, a family man with a wife and child, all this changed when a tragic accident took his family away from him. He began to see the dead, and they him, all the lost and lonely souls of the departed seeming to ask him for help. Never speaking they still manage to get their message across, seeking him to perform some deed so they can pass over to whatever lies beyond.

Thomas feels compelled to help so that some day maybe the 2 ghosts he really wants to see might turn up and somehow ease his guilt ridden tortured existence - and so he becomes an usher for the dead.

When he is called to investigate the violent death of the daughter of a prominent local gangster, Usher's world is torn apart once more. For the barriers between this world and the next are not as immutable as once he believed.

I must admit that I don't read a lot of horror, most modern horror doesn't really appeal to me and seems a bit dumbed down teen slasher-esque style. Sometimes though it's good to have a change and so I very occasionally and very carefully pick a novel that might offer a bit more and be a bit different to the standard fare. I am glad to stay that Pretty little dead things does just that, it's fresh, compelling and has a real style of it's own.

Narrated in the first person, the novel reads much like a hard-boiled private detective novel with a spin on the horror theme. This horror gumshoe sub-genre does seem to be growing and I must admit it is a style I am quite fond of and one that Gary McMahon not only writes well but also manages to stamp with his own unique style. Pretty little dead things was for me a slow start with general back story and character building but it does it's job of bonding you to the character before the book really takes off and the depth and complexity slowly builds as the story progresses. This style has always been the choice of John Harrison who famously critiqued that world building wasn't actually needed for a good story.

There a number of strong but subtly played messages going on within the book, we've got the personal redemption of the principle protagonist which plays with that of the ghosts but is really about Usher's own (lack of) redemption. Usher himself is a real tortured soul, racked with guilt over the death of his loved ones and a past moment of infidelity, grieving for the past, determined to live in his own personal hell and desperate to seek forgiveness from the ghosts of his wife and child. The reality of coping with the loss of loved ones is played out here very well as is the nature of grief. On top of this you've got the very nature of life, death and the afterlife. There is a great cast full of colourful characters and a very very disturbing antagonist.

I love the fact that the story is set in and around the Leeds and Bradford areas, it manages to ground the story very effectively and the settings appear to have been very well researched. When the story twists into a kind of dreamscape dimension the gritty reality of the Yorkshire backdrop creates a vivid and stark contrast. There is also an exquisitely dark atmosphere to the novel and for the most part a subtly played but very disturbing horror aspect, more implied than graphic which not only helps to build tension but also heightens the imagination. Don't get me wrong though, when a scene needs the graphic descriptive element then it's done very well, not one for the younger reader this is a very adult novel dealing with issues of a sexual and violent nature.

Pretty Little Dead Things is horror at it's best, an intelligent, dark mind-warping novel of power and imagination.
Written on 21st October 2010 by Ant .
You may also like