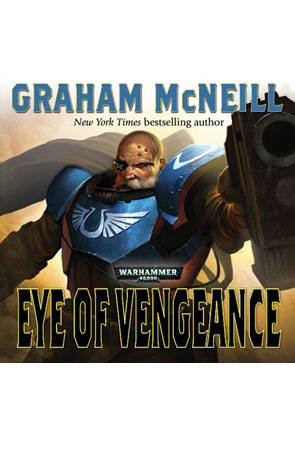 Book details
Eye of Vengeance

Publisher:

ISBN:

9781850000000

Published:

April 2012

Pages:

Format reviewed:

Audio Book

Review date:

11/05/2012

Language:

English

Age Range:

N/A
About the author
This is a first for SFBook, in it's 13 year history not once has an Audio book been reviewed, it's long before time this changed and I hope to review at least a few novels in this format over the coming months. Honour of the first goes to a specially created audio only book by the Black Library.
Eye of Vengeance has been written by Graham McNeill specifically as an audiobook and features the Warhammer 40k space marine chapter; the Ultramarines. Narrated by the experienced actor and narrator Sean Barrett this special audiobook is also performed by Rupert Degas and Saul Reichlin.
The twisted Bloodborn priests of the Dark Mechanicus have descended upon Quintarn and the Ultramarines move in quickly to protect their prized agri-world. It soon becomes clear though that the planet's fate won't be decided by force of arms - even the massed might of the Ultramarines - but by the actions of one lowly scout sergeant - Torias Telion.
An accomplished marksman with a long history of service with the Ultramarines, Telion must face the very worst of the Bloodborn's host and secure the city of Idrisia from the enemy if his Adeptus Astartes company are to have any hope of prevailing against an enemy.
Brooding music, some very effective battleground background effects and the deep voice of Sean Barrett create an incredibly atmosphere. When combined with McNeill's descriptive prose and the performances of Rupert Degas and Saul Reichlin the result is a perfect Warhammer 40k short story that just oozes with the dark, gothic voice and high octane fight scenes that makes the shared universe so popular.
The pace is fast, with pretty much non-stop action while the detailed and almost poetic prose is read out consummately by Barrett who's almost gravelly voice seems perfectly suited to the genre.
Eye of Vengeance is a perfect distraction for any fan of Warhammer 40k, with a running time of only 65 minutes it can easily be listened to in just one sitting; better than any hour you'd spend watching the goggle box.
Written on 11th May 2012 by Ant .
You may also like