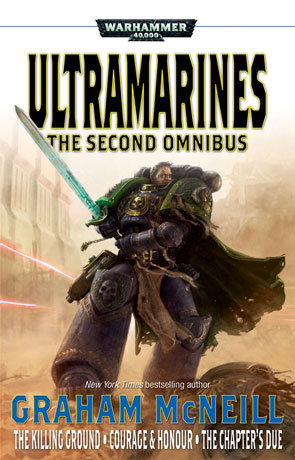 Book details
The Chapters Due

Series:

Ultramarines Series

Publisher:

ISBN:

9781849701730

Published:

June 2012

Pages:

768

Format reviewed:

Paperback

Review date:

22/06/2012

Language:

English

Age Range:

N/A
Books in the series
About the author
The Chapters Due is the sixth novel in the Ultramarines series and the third in the Ultramarines Omnibus II, which also includes several additional short stories and even a nice graphic short. Once again we follow Captain Uriel Ventris as the Chapter goes up against their ultimate nemesis, the brutal Iron Warriors led by the Warsmith Honsou. These renegade space marines have gathered a massive warband and intend to wipe out the home-world of the Ultramarines, Ultramar.
With his chapters home at stake, Uriel must take on the might of Honsou and the vast army of chaos.
The Chapters Due feels very much like the culmination of events and most of the novel is like one big finale, although there isn't really any reason why the book can't be enjoyed as a stand alone novel either. The pace and the tension build as the book progresses and the scale is pretty impressive with the whole chapter getting involved in the conflict.
The story is pretty solid, if a little uncomplicated but it's all put together very effectively, moving through the perspective of a few different protagonists / antagonists although I did feel that perhaps there were a few too many viewpoints and a few of then lacked sufficient time to really do the characters justice especially the Daemon Lord M'kar.
This also means that there are effectively two concurrent story arcs, one from the Ultramarines perspective and one from the Iron Warriors; I'm not convinced this worked as well as it could have, at times it feels that too much is attempted in two short a time to the detriment of the overall plot and a few key parts of the book feel insufficiently described. Having said that the ending does tie up the series quite well, as ever there are some threads left dangling but overall it felt like a worth while finale.
As with the previous Ultramarine novels the running theme of redemption plays its part in the story although here it's a little more muted. Characterisation is again handled deftly along with that rich feeling of a vivid, blood-thirsty and action-packed Warhammer 40k book.
The Chapters Due manages once again to capture the essence of the Warhammer 40k universe and of course the Ultramarines themselves. A fine story told by a talented storyteller and a worthy end to a great series.
Written on 22nd June 2012 by Ant .
You may also like