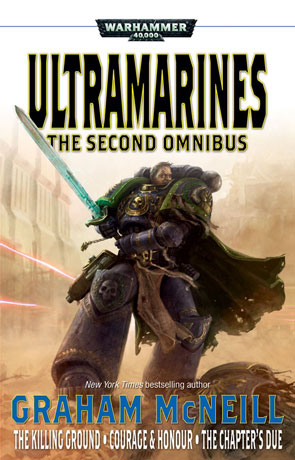 Book details
Courage and Honour

Series:

Ultramarines Series

Publisher:

ISBN:

9781850000000

Published:

June 2012

Pages:

768

Format reviewed:

Hardback

Review date:

22/06/2012

Language:

English

Age Range:

N/A
Books in the series
About the author
The fifth book in the Ultramarines series and the second in the newly released Ultramarines Omnibus II, which also includes several additional short stories and even a nice graphic short. Captain Uriel Ventris is once again in charge of the 4th company, this story is firmly rooted in Uriel's return to grace and the secretive Tau provide the perfect opportunity when they invade the planet Pavonis.
McNeill continues to impress as he describes one of the most famous of Space Marine chapters, Uriel takes center stage and we only get a few lines about his hulking friend Pasanius Lysane as he languished in a cell. It is great to see Uriel re-united with his company and back on the front lines, trying to prove to his brothers that is recent trials have not corrupted his soul.
I liked the introduction of the Tau which provides a nice change to the Chaos and Eldar forces that often make up the combatants. The Tau are a force quite different to any other in the Warhammer 40k universe, I stopped playing long before this race was created and as such I've only really glimpsed them on the GW website. They are a young but technologically advanced race who have a self-professed peaceful policy provided that their philosophy of the "Greater Good" (an idea that every person in the Tau empire, regardless of race will work together for the collective betterment of everyone else) isn't put is jeopardy - an ideal which includes a rapid and aggressive expansion plan.
The is a great pace to the story and the action is excellent, descriptive yet fluid, tense and understated at just the right moments. There is very little wasted space and the time between fights is occupied by some interesting, if diverse characters. I would have liked to see more time given to Pasanius but I can understand that this is Uriel's return to grace and nothing really deviates from that. Courage and Honour is a solid novel that manages to epitomize the Ultramarines chapter. A disarming tale that contains some great action scenes, a strong, uncomplicated plot and colourful, lively characters.
Written on 22nd June 2012 by Ant .
You may also like