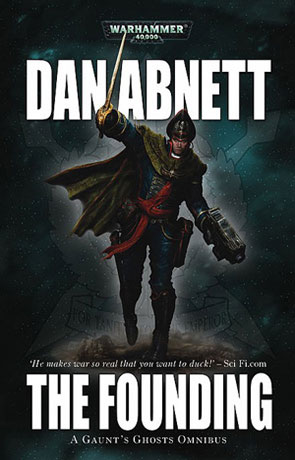 Book details
Ghostmaker

Series:

Gaunt's Ghosts Series

Publisher:

ISBN:

9781840000000

Published:

March 2000

Pages:

287

Format reviewed:

Paperback

Review date:

08/02/2012

Language:

English

Age Range:

N/A
Books in the series
His Last Command
Honour Guard
Necropolis
Only In Death
Sabbat Martyr
Straight Silver
The Armour of Contempt
The Guns of Tanith
Traitor General
About the author
The second novel in the Warhammer 40k Gaunt's Ghosts Series and written by that insanely talented author Dan Abnett, Ghostmaker acts as a reflection on the history of the Ghost's and focuses on telling the story of the major characters within the regiment. This is done through the use of connected short stories and culminating in one fantastic, climactic battle.
While some people have criticised this book for being a series of short stories, for me it's a genius idea that not only works as a novel but provided me with a great degree of information on the Ghost's as a unit while allowing a closer bond with each of the larger than life personalities along with some that don't make it, again Abnett isn't afraid of killing people off when the need arises.
The quality of the prose is as outstanding as ever, Abnett really manages to capture the essence of Warhammer 40k, that gothic-esque religous far future dark war that provides such a rich backdrop. This short story format also allows us to see a greater variety of theatre of war and a chance to discover how the Tanith first-and-only earned their reputation. As each little story has been carefully written it doesn't feel disjointed in any way, something that can happen in a book of short stories.
The action sequences are just as fantastic as they were in First and Only, brilliantly choreographed and brought to life in a vivid and graphic manner. My favourite character now has to be Larkin, the talented and yet quite mad sniper who's story is probably the shortest and yet most memorable in the book. While the main story of the Ghosts is about clearing the Sabbat worlds of their Chaos infestation we also get an introduction (albeit brief) into a few other Warhammer 40k races including the Savage Orcs and enigmatic Eldar, which almost steal the show with their incredible psychic powers and alien intelligence.
Every time I read a Dan Abnett Warhammer 40k novel I get the almost overwhelming urge to break out the boxes of minitures and start gaming again, the voice projecting from the pages of the books are pure Warhammer and there is no greater ambassador that Games Workshop (or indeed the Black Library) could possibly have.
Written on 8th February 2012 by Ant .
You may also like