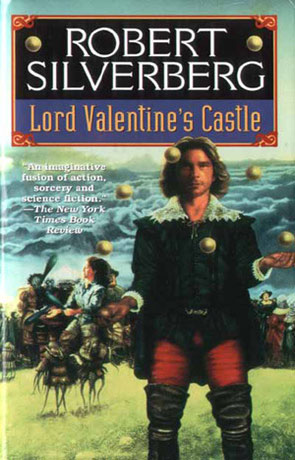 Book details
Lord Valentines Castle

Series:

Majipoor series

Publisher:

ISBN:

Published:

1980

Pages:

505

Format reviewed:

Paperback

Review date:

01/10/2001

Language:

English

Age Range:

N/A
Books in the series
About the author
Lord Valentines Castle is the first volume in the Marjipoor series by Robert Silverberg.

The hardest thing about reviewing this book is to label it correctly. We are on a humanly colonised planet at least ten thousand years in the future. We share this world, of gigantic proportions, with several alien races including the original inhabitants. Some of these aliens act more or less as wizards and dreamreading plays a big part in both everyday and political life on Majipoor. But there is also old time earth technology that keep anti-gravity cars (floaters) working and some mentioning of inter star system space travel. Everyday life on Majipoor seems to fit well in some kind of Victorian utopia. The main character Valentine, starts of as a juggler and travels around in a wagon drawn by some kind of horses. They may be genetically modified, but they are still animals. Fantasy with a bit of Science Fiction or the other way around? I'm not sure, maybe it's Fantasy Science Fiction or something. The cover pictures will probably secure Lord Valentine's Castle a bit of shelve in the Fantasy section, so look for it there.

Lord Valentine's Castle is Robert Silverbergs first Majipoor novel and also the first that I've read. Except for the short story also staring Valentine in the collection Legends, that is. I'm, quite frankly, not sure what to think of it. Valentine's travels around Majipoor as he struggles (and juggles, haha) with his amnesia, are interesting. Majipoor is a tribute to the imagination of one of the best world builders the genre of Science Fiction has ever seen, but a lot of the time it reads like something stuck between a travel novel and a tourists field guide to Majipoor. There's never really any doubt that Valentine will be safely returned to where he belong. The big questions seems to be, if it will be in time for tea and will there be biscuits? You see, Valentine is so exceedingly nice and well loved that he simply can't fail! Luckily it's never so bad that it's annoying and Silverbergs writings are without flaw, it's just that Lord Valentines Castle (as a book) could do with a bit more sharp edges, to keep it from getting lengthy.

I've already picked up another Majipoor novel and with a bit of luck this one will concentrate a bit more on the story and a bit less on the planet of Majipoor.
Written on 1st October 2001 by TC .
You may also like