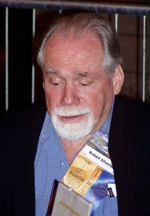 Robert Silverberg is a multiple Hugo and Nebula award winning American author of Fantasy and Science Fiction.

Robert Silverberg's first published novel (1955) was a children's book called "Revolt on Alpha C" which won him a Hugo award for "best new writer" the following year. This encouraged him to continue writing and up until the scifi market crash of 1959 he wrote for Magazines and "ace doubles" (a back to back binding of two novels in one).

After the market crashed he continued to write for other genres and non-fiction fields. When the market recovered in the 1960's Silverberg returned to the science fiction genre and wrote some of his best work including "Down to the Earth", "To live again" and "Dying inside".

He won a Hugo for his novella "Nightwings" in 1969, a Nebula for "Passengers" a year later in 1970, 2 in 1971 for "A Time of changes" novel and the short story "Good news from the vatican" and then in 1975 he won another Nebula for the novella "Born with the Dead".

After suffering from medical problems he retired from writing in 1975 but just couldn't keep away and returned in 1980 with "Lord Valentine's Castle", the beggining of the Marjipoor series. He received yet another Nebula in 1986 for "Sailing to Byzantium" (taken from Yeat's poem of the same name), a Hugo in 1990 for "Enter a Soldier. Later: Enter Another;" and in 2004 he was named Grand Master by the Science Fiction Writers of America.
Bibliography
Revolt on Alpha C (1955)
The Thirteenth Immortal (1956)
Master of Life and Death (1957)
The Shrouded Planet (1957)
Collision Course (1958)
Invaders from Earth (1958)
Aliens from Space (1958)
Invisible Barriers (1958)
Starman's Quest (1958)
The Dawning Light (1959)
The Planet Killers (1959)
Lost Race of Mars (1960)
The Seed of Earth (1962)
Recalled To Life (1962)
The Silent Invaders (1963)
Time of the Great Freeze (1963)
Regan's Planet (1964)
Conquerors from the Darkness (1965)
The Gate of Worlds (1967)
Planet of Death (1967)
Thorns (1967)
Those Who Watch (1967)
The Time Hoppers (1967)
To Open the Sky (1967)
World's Fair 1992 (1968)
The Man in the Maze (1968)
Hawksbill Station (1968)
The Masks of Time (1968)
Downward to the Earth (1970)
Across a Billion Years (1969)
Nightwings (1969)
Three Survived (1969)
To Live Again (1969)
Up the Line (1969)
Tower of Glass (1970)
Son of Man (1971)
The Second Trip (1971)
The World Inside (1971)
A Time of Changes (1971)
The Book of Skulls (1972)
Dying Inside (1972)
The Stochastic Man (1975)
Shadrach in the Furnace (1976)
Homefaring (1982)
Lord of Darkness (book) (1983)
Gilgamesh the King (1984)
Sailing to Byzantium (1984)
Tom O'Bedlam (book) (1985)
Star of Gypsies (1986)
At Winter's End (1988)
The New Springtime (1990)
To the Land of the Living (1990)
Nightfall (1990) (with Isaac Asimov)
Thebes of the Hundred Gates (1991)
The Face of the Waters (1991)
The Ugly Little Boy (1992) (with Isaac Asimov)
Kingdoms of the Wall (1992)
The Positronic Man (1992) (with Isaac Asimov)
Hot Sky at Midnight (1994)
Starborne (1996)
The Alien Years (1997)
The Longest Way Home (2002)
Roma Eterna (2003)

Majipoor series

Lord Valentine's Castle (1980)
Majipoor Chronicles (1982)
Valentine Pontifex (1983)
The Mountains of Majipoor (1995)
Sorcerers of Majipoor (1997)
The Seventh Shrine (1998 novella)
Lord Prestimion (1999)
The King of Dreams (2001)
The Book of Changes (2003 novella)
The Sorcerer's Apprentice (2004 Short Story)
The Way They Wove the Spells in Sippulgar (2009 Short Story)