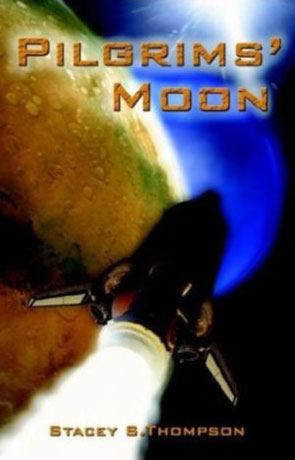 Book details
Pilgrims' Moon

Publisher:

ISBN:

9781592861606

Published:

July 2003

Pages:

416

Format reviewed:

Paperback

Review date:

08/10/2003

Language:

English

Age Range:

N/A
Scott is going to Terranova to begin a new life. Most of the trip is supposed to be done in biostasis, so Scott is rather surprised to be awoken in the middle of nowhere, just to be told that their ship has been thrown five hundred years into the future and far away from their intended target.

Soon Scott, the rest of the crew and passengers fight for their survival, can they make it to the near by planet system before their spaceship fails them? Can their find a habitable planet? Can they land on it? Sounds like something that we have heard before doesn't it? It is – but only the first hundred pages (of four hundred). Then the focus shifts and Thompson turns the story around, it's not about a bunch of people trying to survive on a strange planet.

That's could be a good thing. While I love the survival on strange planets theme, it can get a bit old and it's nice to see some new things added to that story. But then Thompson does it again. And again. And again. Pilgrims Moon changes focus and direction a couple of times to many for my taste. It's as if Thompson wanted to have all his idea in this book even if they didn't really fit. The thing is, you can't just turn a story around like that. If you have had your audience follow your characters through a hundred pages of something, you have to keep that theme alive within the story. It doesn't have to stay the main theme, but it has to stay there. You have to have something more for the readers that got interested in that part of the story (and if you didn't get anybody interested maybe that part shouldn't be in the book anyway). Thompson keeps on, not just shifting the focus but, completely changing the focus and this kind of ruins the story.

As soon as you are getting interested in something, the story moves on and leaves you stranded. I think that Pilgrims Moon would have been a better story if Thompsons had scrapped the first hundred pages and everything about the Kayrans and concentrated more on what's left, especially the characters.
Written on 8th October 2003 by TC .
You may also like