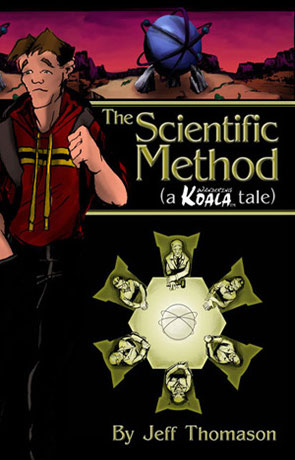 Book details
The Scientific Method

Publisher:

ISBN:

Published:

August 2009

Pages:

166

Format reviewed:

E Book

Review date:

27/01/2011

Language:

English

Age Range:

N/A
About the author
The Scientific Method is a young adult novel by Jeff Thomason.

The Holy Grail of Physics, the Unified Field Theory promises to revolutionize the way mankind lives, and would bring with it advancements never before dreamed of. It has however defeated the most brilliant minds of the last 100 years and Brent Jakes, a junior accountant has just discovered it's secrets. The result of this breakthrough will cost one man his fame, another his career, and a third his company.

Unfortunately, science is not immune to the corruption of politics, as Brent is about to learn. The leading scientists of the time are not happy to be undermined by a part time physicist with no formal qualifications and only the intervention of a silent wanderer can stop them.

The Scientific Method is a short, fast paced YA novel with lot's of energy and a unique style. Most of the action is led by the enigmatic silent wonderer Kyle who is known simply as the Wondering Koala. A mute with a mastery of the martial arts, he manages to popup when most needed.

I liked the idea of the alternative hero and it does work well in the young adult setting, the scenes that the appears in are described in concise detail and are the real stars of the show.

The novel has a very fast pace with a few very well played fight scenes and I found the writing style friendly and easy to read, although the start of the book is a little dis-jointed and feels slightly out of place. The story itself is intelligently laid out, managing to avoid the pitfall of appearing patronizing and dumbing down which so often plagues the YA market.

It is a little on the short side though, I managed to read the whole thing in one sitting, although the fact that the book managed to grab my attention until the end does go towards showing the quality of the prose. I particulary liked the ending, a more realistic approach than most and quite refreshing.

The Scientific Method is an accomplished novel that should appeal to any fan of young adult literature, recommended.
Written on 27th January 2011 by Ant .
You may also like