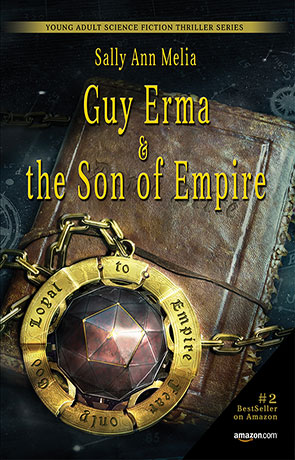 Book details
Guy Erma and the Son of Empire

Publisher:

ISBN:

978-1500951993

Published:

November 2014

Pages:

440

Format reviewed:

Paperback

Review date:

24/05/2015

Language:

English

Age Range:

N/A
Guy Erma and the Son of Empire is a young adult science fiction tale which, to my mind is wrapped in the packaging of a fantasy novel at first glance. Granted it's on the fantastical side, but the deception remains. The writing also holds a few quirks, initially in its spaced layout, but beyond this is a well-pitched narrative that hits the younger market dead on.
The initial chapter throws us straight into the action with italics used for telepathic thought. This isn't initially explained and seems a little strange on the page until you realise. We're quickly introduced quickly into a heady immersive world, filled with its own set of terminology and technology, but this never overwhelms owing to the humanity of the characters portrayed in the writing. Yes, many are different brands of alien, but for the most part, they retain that Star Trek quality in their attitude and dialogue.
Thinking back to stories that inspired me as a child, it was always the ones with big images and grandiose plots. The battle borgs and blade fighting of Freyne certainly has this, along with a story of political intrigue at the heart of the kingdom's nobility.
This is a space adventure with young heroes pitched at readers of a similar age. The perspectives and technology adopted is not exacting in terms of understanding the mechanics of the futuristic society being portrayed, but this is appropriate to the target audience and the story delivers a flavoured world full of simmering class and cultural conflict. Both Guy and Prince Teodor are searching for meaning in their lives and aspiring towards something they might never attain, just like teenagers do. They suffer tragedy and grow because of it, they win and lose, strive, achieve and fail. Some story themes touched on that appeal to the adult in young adult, but this doesn't push the boundary too far. Although, you might see some modern world parallels in the celebrity scandals!
There are some issues of flow in places. Repetition of words, particularly 'the Dome Elite' are constant and this serves to over concretise the organisation's role in the plot. Also an awful lot is set up in the first chapter which you might blink and miss.
The ending gives us a clear set up for future novels and as a series there are a lot of intriguing elements waiting to be developed, particularly the machinations of some of the characters. A few hints and reminders are set out in the appendix, which would appeal to a younger reader.
Guy Erma and the Son of Empire is available as an ebook and would make a good purchase to encourage all youthful imaginations out there in the galaxy.
You may also like