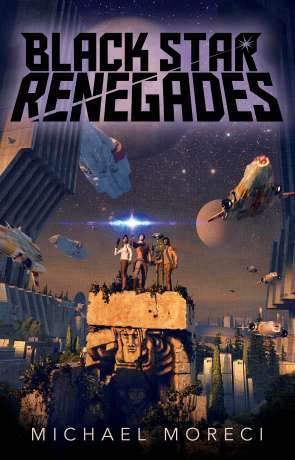 Book details
Black Star Renegades

Publisher:

ISBN:

978-1250117847

Published:

February 2018

Pages:

384

Format reviewed:

Paperback

Review date:

23/03/2018

Language:

English
Cade Sura finds himself in the unenviable postion of having within his hands the galaxies ultimate weapon. A weapon that promises to bring about peace from the Evil Praxis Kingdom and it's fantatic overlord Ga Halle.
Cade never wanted such responsibility and would do anything he can to get away from it. But with Ga Halle about control every star system in the galaxy, Cade doesn't have a choice, he's going to have to fight.
While most novels try to break away from being derivitive and try to hide their influences, Black Star Renegades smashes the reader in the face with them.
It embraces the big science fiction tropes and borrows heavily from other science fiction stories - not least from Star Wars.
For me, this is where the difficulty lies - I've spent many an hour trying to read through derivitive fiction that is trying hard to pretend it isn't. To read something that stands up and shouts about how much it borrows from others is difficult to get past. This isn't Star Wars fan fiction, but borrows so heavily from this and others such as Guardians of the Galaxy and even Lord of the Rings, that it struggles to show it's own identity.
An evil empire, a frightened republic that puts all it's hope in a hero from humble origins wielding a legendary weapon. The author does little to break the mold.
It does have to be said that the whole thing does have a great deal of energy about it. The pace is blistering, heightened by the episodic nature of the chapters. The characters are entertaining, if somewhat predictabe.
Taken as a spoof of other fiction the book does work, as long as you don't expect to take anything too seriously and accept that will have heard most of it somewhere before. 
I can imagine Black Star Renegades to be polarising, almost the marmite of science fiction. If you can get past the derivation inherent in the prose then I can imagine the book becoming somewhat rewarding - it's got the energy of a small, bright star, larger than life characters and a pace that would make Usain Bolt blush. It's got bags of charm and the writing is quality, just don't expect any molds to be broken in the process.
Written on 23rd March 2018 by Ant .
You may also like