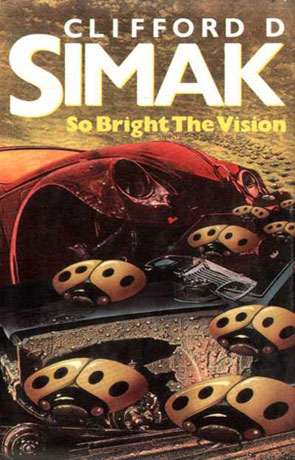 Book details
So Bright The Vision

Publisher:

ISBN:

Published:

1968

Pages:

160

Format reviewed:

Paperback

Review date:

01/02/1999

Language:

English

Age Range:

N/A
About the author
So Bright The Vision is a short story collection by the award winning author Clifford D Simak.

A small collection of four stories written in the late fifties:

The Golden Bugs
Are they bugs or are they aliens? And why are they cleaning house?

Leg. Forst.
Collecting stamps is a whole other ball game when you are part of a galactic empire. And sometimes a stamp isn't just a stamp, which Clyde Parker learns the hard way when he spills some broth on a strange stamp.

So Bright The Vision
Simak takes a look the future of writing. For some strange reason humans seem to be the only species able to turn out decent fiction, giving Earth a unique position in the entertainment industry. Now wouldn't that be every (wannabe) writers dream universe? Well, not necessarily...

Galactic Chest
The pixies are here! The pixies are here! And they are here to help.

Four great stories, showing why the late fifties and the early sixties, where the true golden age of Science Fiction.
Written on 1st February 1999 by TC .
You may also like