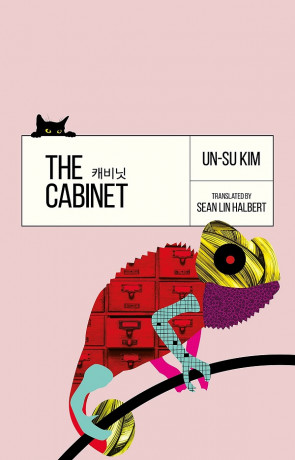 Book details
The Cabinet

Publisher:

Angry Robot

ISBN:

9780857669179

Published:

October 2021

Pages:

400

Format reviewed:

E-Book

Review date:

12/10/2021

Language:

English
I love genre fiction that deals with people who have developed superpowers; X-Men, The 4400, The Boys. All of them have ordinary people gaining extraordinary powers. Some become superheroes, other supervillains. However, what about those mutations that are a little naff? Do you deserve to be sent to a mutant concentration camp because you have very dry crocodile-like skin on your calves? Do you deserve to be saved by Magneto because you happen to have two extra toes on your right foot? The Cabinet by Un-su Kim and translated by Sean Lin Halbert, rightly explores these lesser mutations known as Symptomers and some are mundane as any dry day job.
What is Cabinet 13? It is a plain looking cabinet that is housed in a random South Korean research facility. Its only security is a 4 number padlock and the general apathy of the staff. There is no real work to do, so the extremely bored Mr Kong decides to work through every number on the padlock and opens the cabinet. Inside is a pile of folders all about known Symptomers, people with strange stories and bizarre anomalies. Mr Kong does not realise it yet, but he has just become the custodian of these files and all the oddness that this brings.
Science Fiction can take itself too seriously, so it is great to read an offbeat genre novel and they don't come much more leftfield than The Cabinet. It stands on similar ground as A Hitchhiker's Guide to the Galaxy, filtered through the macabre gaze of Chuck Palahniuk, whilst remaining uniquely the voice of Kim. The book has a very dry sense of humour as the narrator Mr Kong does not have a huge amount of enthusiasm for anything, including helping the poor people who find themselves chronicled in Cabinet 13.
The narrative is split between Mr Kong's own life and those of the Symptomers. The Symptomers chapters are akin to short stories. Kim explores these strange characters and uses them to muse on odd speculative fiction. What would happen if a person grew a tree on their thumb, or lost months at time in a flash? There are some highly intelligent and fun ideas discussed and I loved where Kim's logical writing takes the reader. If someone could alter their own memories, why would they always be depressed? Because the present could never live up to the perceived wonderful past, they have altered in their mind.
Cabinet 13 has many stories like this of people trapped with powers that are borderline useless or self-harming. The book is a wry science fiction novel, but also an exploration of self. What may seem amusing at first turns into a sense of melancholy. What have these people done to deserve this fate?
Mr Kong increasingly becomes a key component of the book as we witness his life. He is thrust into the world of Cabinet 13, and he is ill equipped. It is not that he is bad at the job, just very mediocre and uninterested. The book starts to take some dark twists and turns. The humour steps aside to be replaced by humanity, or lack of it. The book is funny, but in a darkly comedic way that Terry Gilliam would enjoy.
A mention to translator Halbert must be given as you feel the authentic voice of Kim has been captured and put on the page. With its strange tone, this is not a book that would have been a straightforward conversion from one language to another. Halbert captures all of Kim's eccentricities and whimsey and is also able to ensure that the book remains firmly set in South Korea.
You may also like