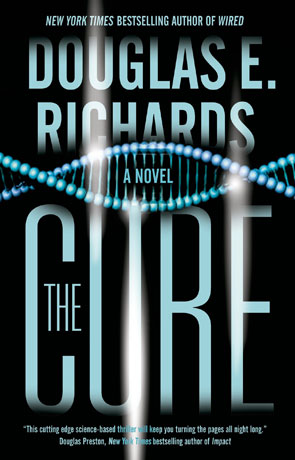 Book details
The Cure

Publisher:

ISBN:

978-0765374097

Published:

September 2013

Pages:

318

Format reviewed:

Hardback

Review date:

06/11/2013

Language:

English

Age Range:

N/A
About the author
Douglas Richards has a wonderful way of injecting science fiction elements into a thriller style plot without upsetting the balance and comparisons to the late Michael Crichton are inevitable. If anyone was to compare authors it would also be fair to say that Richards is a worthy successor to Crichton - there is the same carefully considered and yet pacy plot combined with plenty of atmosphere and tense, "thrilling" moments.
One word of warning though, this is an adult book dealing with adult themes (as you might expect from a book that deals with Psychopaths) and Richards does a commendable job of shocking the reader right from the very start.
The story follows Erin Palmer who after a very traumatic childhood spends her life finding out what causes someone to be a Psychopath and if this condition ever be treated. She receives help from a mysterious benefactor who believes that a cure can be found and supports her work - which leads into a direction that you wouldn't guess in a million years.
For the first part of the book the story seems like an insight into the study of those aberrative minds - and an interesting insight it is. This is simply setting up the protagonist though as a thoughtful, strong female lead and we soon launch full-on into a helter-skelter world of her mysterious benefactor.
Without letting slip a major spoiler I can't really give any more away, suffice to say that it was genuinely unexpected. The idea of a cure for Psychopaths is a very intriguing one and here the author has clearly done a great deal of research - presenting a balanced argument as to whether we should even attempt to find a cure and what the repercussions could be if we did. The other major idea (which again would be a spoiler if explained) is one of those "I wish I had thought of that" moments, a unique idea that is cleverly played out and thought-provoking to say the least - not to mention another way to explain the "Fermi Paradox".
The balance between science fiction and thriller elements is set just right; as with the authors other books anyone who loves a good thriller should enjoy this book while those who like a fast-paced science fiction adventure are going to be equally at home here. The story keeps you on your toes; guessing for most of the way through with a number of plot twists and genuine surprises that really do leap out unexpectedly.
The Cure is an accomplished thriller that can stand alongside any other author writing in the genre, a bold tale told well.
Written on 6th November 2013 by Ant .
You may also like