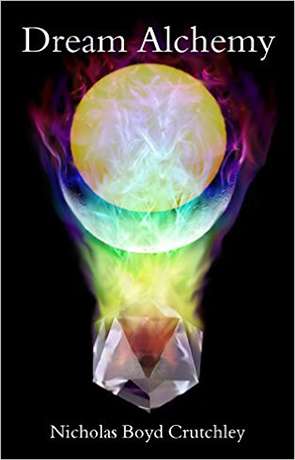 Book details
Dream Alchemy

Publisher:

ISBN:

978-1499744910

Published:

Pages:

Format reviewed:

E Book

Review date:

10/11/2015

Language:

English

Age Range:

N/A
A book filled with ideas and scenes that demonstrate a strong command of both language and writing, Dream Alchemy by Nicholas Boyd Crutchley is a tricky text to review, mostly because it lacks a coherent story.
Crutchley is playing with a multiple reality concept. We have occasional hints of this within the science fiction related scenes. We know there is a blood plague that is affecting humanity, we know there is a personification of good (Sol) and evil (Babylon) and these themes re-occur throughout the disjointed scenes of the book.
These elements do point towards there being a plot and that this plot is based on the re-perception of particular concepts within different frameworks. The depicted first person virus might be Babylon, evil, blood plague, Naga. The good may be represented by Gaea, Alta, Althuen and Sol, but the linking of these concepts across different situations and circumstances is not as clear as it should be. Additionally, the binary of good and evil is welded to an order and chaos binary, which is an inaccurate limitation, but might serve to indicate the science fiction premise here.
The problem lies chiefly with the author's consideration of the reader experience. Dream Alchemy is less of a hunt for clues to solving the mystery as a hunt for fragments of narrative cohesion. With each character seemingly reappearing in multiple guises and in non-linear progression, it is very hard for the reader to navigate the story and put all the pieces together in the right order, particularly if you put the book down and pick it back up a day later. This means you are left with islands of narrative, strongly written but without much to connect them to the other islands you discover. This makes the book a struggle and frequently makes the reader question whether the scenes are actually going anywhere.
We do have a predisposition towards telling and a lack of action in places as things move on, but there is an evocative quality to Crutchley's work. It is clear that he gets the requisite tone for a fantasy epic, but then switches and switches again, demonstrating a vast array of writing agility. Unfortunately, the reader isn't given a framework to follow and some of these devices confuse more than they might reveal. The occasional lapse into rhyme is one such element. There are some beautifully written stanzas, but as they go on, the device becomes more noticeable than the content, so too, the switch of tense third/first person.
By comparison, Gavin G. Smith's Age of Scorpio sets out the baseline of pseudo-scientific transaction for the reader fairly promptly and weaves past present and future into a consistent story where you are able to see the artifice. Dream Alchemy hints at this kind of transactional consistency but does not deliver on it.
Throughout the story we expect the characters to affect the outcome of what is occurring, but ultimately this does not happen in the way other writers might choose. The final chapters do pull the plot together, but mostly through long sections of exposition and carefully crafted characters such as Nombuso are left behind. The ending when it comes does not conclude as we expect and abandons the circumstances and premise to corruption with a series of left over story pieces to boot.
There is clearly a vivid imagination and lyrical skill behind Dream Alchemy. Perhaps this will emerge in a more crafted story when Nicholas Boyd Crutchley releases his next book.
You may also like