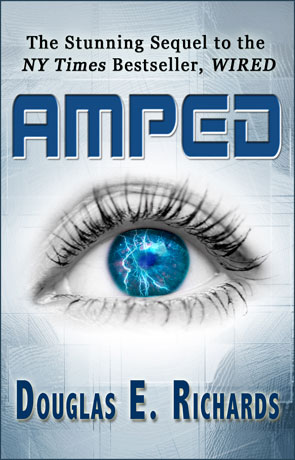 Book details
Amped

Publisher:

ISBN:

Published:

March 2012

Pages:

326

Format reviewed:

E Book

Review date:

08/06/2012

Language:

English

Age Range:

N/A
About the author
Amped follows on directly from the events of Wired reviewed late last year. We rejoin the brilliant scientist Kira Miller who has discovered how to boost the human IQ to extreme post-human levels for short periods of time. With this extreme intelligence comes the danger that the same process brings about a perhaps inevitable number of psychological side-effects including megalomania. Along with ex-special forces operative David Desh, Kira recruits a small group of already brilliant minds and look to further their research and propel human-kind to the next level of existence, working off "the grid" (or so they think).
Their activities however have attracted the very worse kind of attention and they find themselves hunted by unknown, powerful adversaries. On the run and under attack from all quarters Kira must confront the very real possibility that their enhanced versions of themselves may be hiding dark secrets. Can they trust each other, or more importantly can they even trust themselves?
The greatest threat of all though may be coming from an entirely different and unexpected direction, a threat that could have consequences on a global scale, against which the clock is ticking...
I was actually quite unprepared for Wired last year, an impressive techno thriller that had some great ideas very well placed within the intriguing story. The only problem with this approach though is where you go from there, do you repeat the same formula and hope to hit gold a second time, or do you instead build on the things that make the novel great and take it forward in new directions? Happily the author has chosen the second approach here, while the novel is created in the same style and has the same protagonists there is a big reveal a third the way through the book that's pretty much a game changer and takes the story in unexpected directions.
Characterisation has improved over the previous book, a little less cheesy and more muted giving a greater realism and edge which helps to produce an even better novel. The story is pretty catchy too, quite sophisticated in its own way and again there are some great ideas while the change of direction is simply inspired. It's still very much a high-tech, high-octane thriller with small elements of mystery with a pretty fast pace and plenty of twists and turns.
I love how the author portrays both the protagonists and the government agents trying to track them down, neither are weighted as good or bad, much more realistically each consider themselves in the right and doing what they do for the best reasons and this gives a wonderful ambiguity to just who's right and who's wrong. It also casts doubt over just how effective this super IQ mix really is, does the super-intelligence justify the serious side-effects that may be taking place? The author also manages to describe such high levels of intelligence very effectively and not once was my sense of belief put to doubt, there are some great conversations between such mighty intellects too along with monologue casting self-doubt and exposition on some the issues that becoming "enhanced" causes.
There isn't really any time spent bringing the reader up to speed however it can quite easily be read as a stand alone novel without having read Wired and kudos has to go to the author for managing to accomplish this feat. There is also clearly a great deal of research gone into the book and it really does show, everything seems highly plausible and in parts the way the author manages to describe some pretty complex stuff so simply that anyone can understand it is just genius (the theory of relativity really stands out here). The only people I've ever seen who have managed to describe science in such an intriguing and straight forward manner is Bill Bryson (in his book "A short history of nearly everything" - which in my opinion should be taught as standard in all schools) and the charismatic Mancunian professor Brian Cox.
When combined with an easy to read writing style and confident narrative the end result is a book that's pretty much unmissable, if you are a fan of fast-paced thrillers or high-tech scifi then I seriously urge you go get this book.
Written on 8th June 2012 by Ant .
You may also like