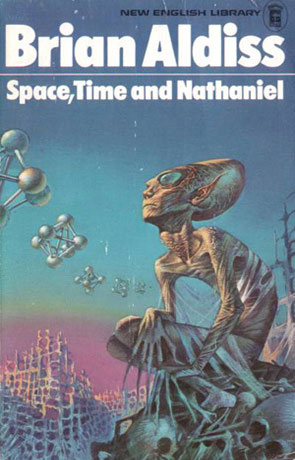 Book details
Space, Time and Nathaniel

Publisher:

ISBN:

Published:

1957

Pages:

190

Format reviewed:

Paperback

Review date:

01/02/2001

Language:

English

Age Range:

N/A
About the author
Space, Time and Nathaniel is a collection of science fiction short stories by Brian Aldiss.

The stories in this collection are some of Aldiss' earliest stories and it's amazing how little they have lost through the years. Nearly none of the stories seem quaint and silly the way some of the stories of the period have a tendency to do today. Okay, some of the stories have been surpassed by the innovations in technology since the fifties and there's no fantastic predictions of the Internet or similar, but the stories survive on their characters. Well worth picking up if you find it in a second hand bin somewhere. The 160 pages and 14 stories will end all to soon.

Stories in this collection: T, Our Kind of Knowledge, Psyclops, Conviction, Not for An Age, The Shubshub Race, Criminal Record, The Failed Men, Supercity, There is a Tide, Pogsmith, Outside, Panel Game, Dumb Show.
Written on 1st February 2001 by TC .
You may also like