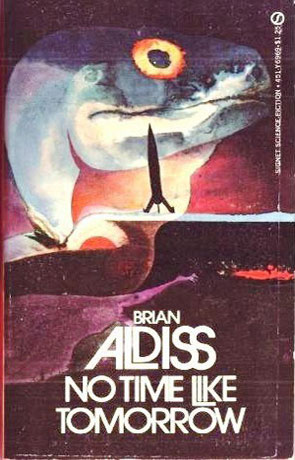 Book details
No Time Like Tomorrow

Publisher:

ISBN:

Published:

159

Pages:

160

Format reviewed:

Paperback

Review date:

02/09/2002

Language:

English

Age Range:

N/A
About the author
No Time Like Tomorrow is a collection of science fiction short stories by Brian Aldiss.

This little book is all Aldiss shorties that end real abrubtly or have sort of nice wrapped up endings that are reflecting on the rest of the story in this light of 'well that was...ok'.

There is one particular story in here: GESTURE OF FAREWELL. This story knocked me on my face and blew my feet off!! The premise is Earth creates a weapon that sucks a planet's atmosphere out and blows it into space. The 'enemies' get this 'gobbler' sent to their world for destructive intentions leaving the planet open for rebuilding, years of rebuilding. A certain fella is obsessed with working/revitalizing a world even though his family is dying or going nuts. The 'enemies' of these various planets sabotaged their gobbled planets differently before dying. Each sabotaged planet is ingeniusly booby trapped with different contraptions. This story has one too....damnit it's great, read that story if you see this book somewhere. It's a delight to read Aldiss as he uses good synonyms and adjectives to weave but the basket isn't always holding much of anything by the end of the story but the words he tied it together with. Not like every basket woven needs a snake or pie slice in it...
Written on 2nd September 2002 by TC .
You may also like