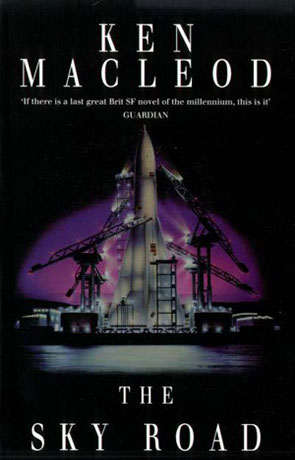 Book details
The Sky Road

Series:

Fall Revolution Series

Publisher:

ISBN:

Published:

1999

Pages:

304

Format reviewed:

Paperback

Review date:

01/05/2000

Language:

English

Age Range:

N/A
Books in the series
About the author
The Sky Road is the fourth volume in the Fall Revolution Series by Ken Mcleod.

Expectations are a funny thing. It has been nearly ten months since I read the first three books by MacLeod and loved them, and now I that I've read his fourth book I'm unsure as to the reason as to why I'm disappointed with it, or at least with the first third of it. If I hadn't had such high expectations I wound probably have found it a fairly good book with a bit to slow first third. But I did have high expectation and I blame MacLeod for writing such three fantastic books in the first place. The problem with The Sky Road is that it doesn't have a strong and interesting main theme, at least compared to the other three books in the series. It does tell two stories, which are both interesting and relevant to the rest of the books, but there's no big theme to give them that extra dimension that makes them something besides well-written stories. Well, maybe there was, but in that case it didn't strike any cords with me.

The Sky Road takes place on earth and is told in two stories in alternating chapters. The first story is the story of Myra Godwin-Davidov, president of the ISTWR one of the last atomic superpowers of the late 21th century (you may remember Myra and the ISTWR from The Stone Canal). The world is coming apart and Myra is trying to save the pieces. The second story takes place a couple of hundred of years after the Deliverance (which is the ending of Myra's story). Humanity has stayed on earth but is reaching for space once again – the young historian Clovis is trying to figure what really happened around the Deliverance and if space is really safe again.

Even if missing a grand theme, The Sky Road is every bit as well written as we are used to from MacLeod and every bit as funny, which is one the reasons that I've to recommend it even if it doesn't compare to the first three books from MacLeod. The second reason is that it tells two important stories that needs to be told to complete the universe created in the first three books.
Written on 1st May 2000 by TC .
You may also like