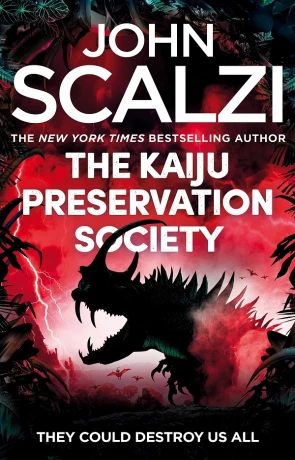 Book details
The Kaiju Preservation Society

ISBN:

9780765389121

Published:

March 2022

Pages:

272

Format reviewed:

Paperback

Review date:

28/03/2022

Language:

English
About the author
What are you going to do if Godzilla arrives. You must have a plan in mind. At least one for home and one for the office. I used to have a great plan that would see me have an almost 100% chance of surviving, but then I went and started a family. Now I have no chance as their little legs are just not fast enough to run away from building size monsters. Thankfully, Kaiju aren't real, are they? And if they were real, no one would be trying to preserve them?
It is the eve of the first lockdown and Jamie has found himself like so many others, unemployed. The only work is delivering food to people who can still afford tasty treats. A chance delivery has him reacquainting with an old friend who needs someone pronto for a job. All Jamie must do is lift things and help an NGO preserve large wildlife. Jamie cannot sign up fast enough and it is not until he has arrived and signed the contract that the creatures are a little larger than he imagined. And not in our particular universe either.
The Kaiju Preservation Society by John Scalzi was written as a tonic after a hard lockdown and for a book that is set during Covid times, it is exceptionally amusing. The concept is high and great fun. The likes of Godzilla and Mothra are based on reality. During the nuclear experiments of the 40s and 50s we weakened the barrier between our universe and theirs. As these creatures feed on nuclear energy, it drew them across. Now the KPS have permanent bases over on the Kaiju universe to make sure that no accidents or crossings occur. This is suddenly where Jamie finds himself.
If the book had followed a military protagonist, it could have been a serious action book in the style of Aliens, but Jamie is not that person. He is an English student with a failed PhD to his name. In a world of scientific research his skill is best used lifting stuff, but you soon realise that his candid attitude and quick wit are a benefit to the KPS. This is the second recent science fiction book that has had someone with a similar degree to my own at the centre being perceived as being a little useless. In both Mickey7 and Kaiju we learn that the arts still have a place, even in a science future as there is more than one way to approach a problem.
Jamie is a great central character who is always quick to inject a little sarcasm into proceedings if required. There is a sense of comradery that grows quickly among Jamie and his new friends, this becomes the heart of the book. Kaiju is a farfetched and lighter tale, often told for laughs. For this reason, I can forgive some of the apparent amateurish decisions made in the book. With no qualifications, Jamie is thrust into the action almost immediately, it makes for fun reading, but I would hope a real NGO would be more professional.
The book is funny throughout and it is a light read, but it also has some great action set pieces. The Kaiju are impressive specimens. Scalzi creates a viable universe and explains the science behind how such large creatures can exists, the Kaiju host an ecosystem upon their own skin creating a symbiotic relationship between the host and its parasites. And when these parasites are the size of a lion, they can be more dangerous than a multistorey Godzilla who will just ignore you.
The Kaiju are only one threat. With such powerful creatures hidden behind a flimsy dimensional barrier, it is the humans you must watch out for. This element has a Spielberg feel and you can see the book being made into a movie as all the pieces are already there.
If you are on the lookout for a lighter slice of science fiction that plays for comedy, but also brings the science, then Kaiju is the book for you. This is Scalzi in Redshirts mode and like that book it shows an author who knows their genres. This is a book that is intelligently stupid, and I am here for that any day.
You may also like