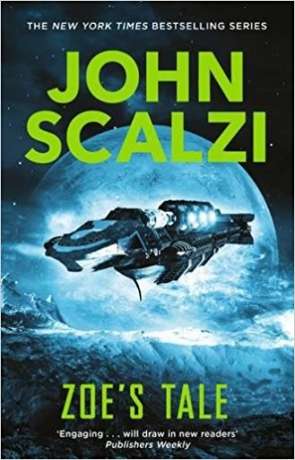 Book details
Zoe's Tale

Publisher:

ISBN:

978-1447295358

Published:

December 2015

Pages:

336

Format reviewed:

Paperback

Review date:

13/12/2017

Language:

English
About the author
Zoe's Tale is one of the Old Man War series of books by John Scalzi and covers the same time period and events as The Last Colony, (the previous book in the series) but from a different character's perspective.  Despite this, it can be read as a standalone novel. 
Zoe is moving to a new colony with her adopted family. She's not an ordinary girl by our standards or by those of her peers.Zoe's unique circumstances mean that she takes with her two alien bodyguards and the hope and humanity of a whole alien species.
The novel explores the theme of growing up, Zoe is gaining the ability to make her own life shaping decisions and to see the consequences of those decisions, even when she would rather not.  She realises that because she is valued as an individual, even if not as a result of her own actions, she has power over those who value her.  She makes mistakes and has awkward moments and it is these flaws that help us identify with her.
Zoe's Tale was nominated for the Andre Norton Award for Best Young Adult Science Fiction/Fantasy (as well as being nominated for the Hugo Award for best Novel) and the teen protagonist makes it very accessible for that audience, but like all the best teen fiction it has enough depth for adult readers also.
As Zoe explores her surroundings, we meet the alien species that she encountered and these really feel like they are complex and different cultures, both from our own and from each other.  We also find out about her human relationships, family (not just blood), friends and romances.  The character's roots in a community that we can relate to, help the reader to accept the more abstract relationships she has with the aliens, particularly those she is close to.  We come to see that alien or different does not mean bad and human does not mean good, that individuals on all sides have their own agenda, morality and motives. 
Scalzi looks at issues, through the alien species, of self identification and of consciousness separate from intelligence, which is a really interesting idea.  If we had no sense of self, no name, even in our own mind, would we value our own life?  Would we would aspire to consciousness if we had intelligence or would we consider it better to push towards intelligence without being swayed by consciousness? On one side the Obin had no sense of individuality, but desperately wanted it, on the other the Consu sought to train themselves to have no sense of self, considering this the ideal state for rational thought.   This concept perhaps moves the book from space opera into the area of speculative fiction, the "what" in the "what if?" 
The book is easy to read and moves at a good pace. I sat down to read a few pages and some hours later realised I had finished it.  I laughed, I cried, I was transported.  
You may also like