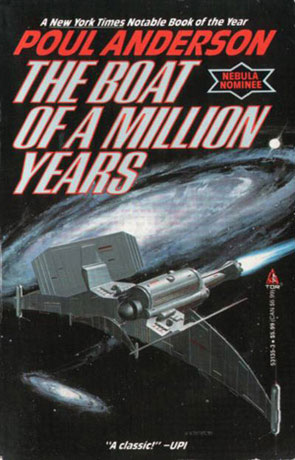 Book details
The Boat of a Million Years

Publisher:

ISBN:

Published:

November 1989

Pages:

480

Format reviewed:

Paperback

Review date:

01/04/2001

Language:

English

Age Range:

N/A
About the author
The Boat of a Million Years is a science fiction novel by Poul William Anderson.

Starting in the year 310BC and taking us beyond our present day, The Boat of a Million Years takes on one of Poul Anderson's favourite topics, namely longevity.

Most of the book follows Hanno as he lives through a couple of thousand years, mostly trying to find others of his kind – this part can be read as an alternative history lesson giving small stories as highlights of the history of the world (at least the last couple of thousand years).

Interesting and entertaining if you are into that kind of thing. The rest of the book (about a fifth of it) takes place in a future where everybody can expect to live forever and our old "survivors" (as they call themselves), are having a hard time fitting into this society, so they decide to go on a journey.

If you like historical novels with a twist you will probably find this book really interesting and entertaining. I'm not going to say that it bored me, but I think that The Boat of a Million Years could have benefited from a bit of editing (it's a bit over five hundred pages, which is a hundred too many if you ask me).
Written on 1st April 2001 by TC .
You may also like