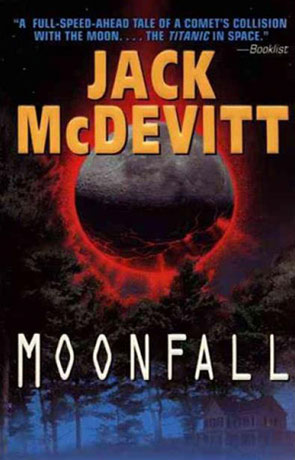 Book details
Moonfall

Publisher:

ISBN:

9780006511700

Published:

Pages:

544

Format reviewed:

Paperback

Review date:

01/05/2001

Language:

English

Age Range:

N/A
About the author
The subtitle on this, my first book by McDevitt is "It's time to panic". I don't know about you, but a subtitle like that tells me a lot about what to expect from a book. It tells me that McDevitt or more probably his editor, didn't think that this was a serious piece of literature, aspiring to win the Nobel Literature Award or even the Hugo. It also tells me that I can expect front to back action and suspense. And guess what? I'm right! While Moonfall won't change the way you look at your fellow man, the earth or even the moon, it will do a very good job of entertaining you while you read it.

In Moonfall we mostly follow the American Vice President of 2024, Charlie Haskell, who just happens to be on the moon for the opening of moonbase, which just happens to coincide with the discovery of a comet, which is going to smash into farside (the side of the moon that turns away from earth) and smash the moon to pieces. So besides the logistical nightmare of trying to get everybody off the moon, there's the fear that large pieces of the shattered moon will fall on Earth.

As you can probably guess from my small synopsis this is more of a Disaster story than a Science Fiction story, even if most of the action revolves around spaceships, but that doesn't really matter it's still a really fine piece of escape literature. Okay, bad pun, but that doesn't make it any less true.
Written on 1st May 2001 by TC .
You may also like