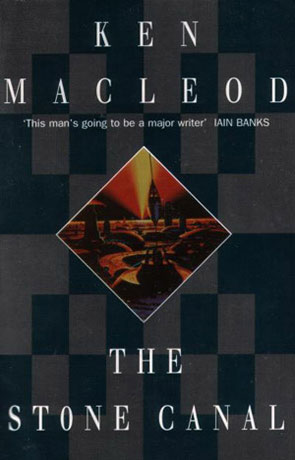 Book details
The Stone Canal

Series:

Fall Revolution Series

Publisher:

ISBN:

Published:

1996

Pages:

322

Format reviewed:

Paperback

Review date:

02/09/1999

Language:

English

Age Range:

N/A
Books in the series
About the author
The Stone Canal is the second volume in the Fall Revolution Series, following on from the events of the Star Fraction, written by Ken Mcleod.

The third book from this soon to be grand master (if I have anything to say about the matter). Stone Canal takes place in two threads, the first one takes place in the youth/first life of Jonathan Wilde during and before The Star Fraction, the other thread takes place on New Mars a few hundred years later (before The Cassini Division) and is also about Jon Wilde and the robot Jay-Dub. Oh, and it's about Dave Reid, you see Dave and Jon used to be best friends back in the 1970 (on Earth), but on New Mars Dave in the boss and Jon is stuck in a robots body while Dave is having fun with a cyborg copy of Jons wife. But the Cyborg want to be free and Jon the robot has a plan. As they say – consciousness wants to be free.

As you can probably guess from the above, The Stone Canal is a bit more complex than The Cassini Division, it's also a lot more interesting from a philosophical point of view, because most of the book is really about the good old subject of what makes an intelligence and when it deserves freedom (the old Bladerunner question). MacLeod does it with finesse.

I'm having a hard time describing how good I think MacLeod is, without going into total babble mode (okay, some would say that I already did, but hey…). But let me try: Macleod manages to combine the best parts of science fiction with the most interesting parts of political philosophy and science, ending up with some of the most interesting science fiction written since Heinlein.
Written on 2nd September 1999 by TC .
You may also like