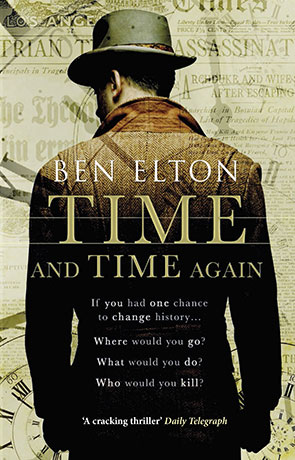 Book details
Time and Time Again

Publisher:

ISBN:

978-0552779999

Published:

November 2014

Pages:

464

Format reviewed:

Paperback

Review date:

11/01/2016

Language:

English

Age Range:

18-
Ben Elton is a talented fellow. I've loved most of the TV programs he's been involved in from the Young Ones and Blackadder to Blessed and the Thin Blue Line. His humour is often satirical, off-the-wall and almost always makes me laugh.
The only novel I've read of his prior to Time and Time Again is Stark — an early example of modern environmental fiction and a book that feels a lot like the love-child of Douglas Adams and Grant Naylor. I like Time Travel novels, there have been some great examples fairly recently. Last year we had the stand-out example The First Fifteen Lives of Harry August — we also saw the release of Jerry Cornelius: His Life and Times — by the legendary author Michael Moorcock.
As such my expectation was high for this book, a time travel story with the infamous wit of Ben Elton. I was hoping that Time and Time Again would perhaps be a satirical romp through time or at least with a thick vein of the authors humour running through it. Unfortunately it's largely devoid of both.
Instead it's much more mainstream and feels diluted so as to appeal to the masses. There is a good story though, revolving around an ex-SAS soldier who is chosen to go back in time and prevent the first world war — the argument being that preventing the first world war would prevent the second and bring an era of peace our world hasn't known. Of course anyone who has seen or read a time travel story knows that it's never as simple as that.
The story moves between the past and present, the former being described in great detail — such that it almost feels like you are there. The authors intelligence and talent as a writer really shows here however without his more absurd humour it does feel a little too serious. The protagonist Hugh Stanton is a grieving widow who takes some convincing to become a time-traveller but the grieving widow thing does feel a little overplayed and part way through the book I did feel like telling Hugh to get a grip of himself. He is though all action hero and the depiction of his legendary combat prowess and abilities are also a little over-the-top — one of the weak points of the book.
The other issue is one of balance. Yes we've got the wonderful ambience of the early 20th century but partly as a result and partly due to the plot being sidelined a few times the last 50 pages seem so much more weighted to moving the story forward and time travel related shenannigans.I have to say when it does pick up it works well and the last part of the novel is, clever, inventive and quite mesmerising.
Is has to be said though that the history aspect is superb and the author must have carried out a great deal of research to get the level of detail he has. A large part of this exploration involves that spark that ignited the powderkeg that led to war between Austria-Hungary and Serbia, itself leading to World War One. That is of course the assassination of Archduke Franz Ferdinand of Austria and his wife Sophie, Duchess of Hohenberg by the Bosian Serb Gavrilo Princip (part of a secret society known as the Black Hand). It is quite fascinating and the author presents a plausible argument for alternative events.
Despite the pacing issues and too-good-to-be-true action hero, Time and Time Again is a good book. It's got it's fair share of the moral dilemmas that are faced by fellow time travellers, a detailed look at the historical events the book makes use of and a strong ending, rewarding ending. Just don't expect the authors trademark humour.
Written on 11th January 2016 by Ant .
You may also like