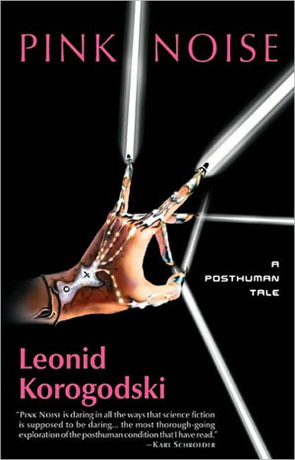 Book details
Pink Noise

Publisher:

ISBN:

Published:

August 2010

Pages:

192

Format reviewed:

Hardback

Review date:

19/11/2010

Language:

English

Age Range:

N/A
Awards won
Pink Noise: A Posthuman Tale is a hard science fiction novel, the debut of Leonid Korogodski.

Before I begin the review it's worth noting a few things to put this literay achievement into some perspective. Pink Noise is the first novel to be written by Leonid Korogodski, a native Ukrainian who gained a PHD at the Massachusetts Institute of Technology (MIT). He learned English as a second language in the USA before attending the Viable Paradise workshop for writers of speculative fiction on Martha's Vineyard. Viable Paradise Instructors have included award winning authors such as Elizabeth bear, John Scalzi and Cory Doctorow, the latter who taught Leonid Korogodski.

The Book has already been acclaimed by some very talented authors including:

Cory Doctorow:-
"Pink Noise manages to be a story that sucks you in and spits you out again some 120 pages later"

Karl Schroeder:-
"Pink Noise is daring in all the ways that science fiction is supposed to be daring."

and Joe Haldeman:-
"An exciting, terrifying rush of words, deftly combining hard science and poetic imagery. I don't know whether 'magnetorheological' is a word. If not, it should be!"

With such an impressive list of acknowledgements, it's a book I have been really looking forward to reading. Technically it is really a novella as the story itself is only 120 pages long, however the book is padded out with a series of appendices that explains all the science that makes up this hard scifi story, including neuroscience, evolutionary computing, astrophysics and linguistic skills. This hardback version is of very high quality with heavy, glossy paper and is illustrated with black and white drawings by the Bulgarian artist Borislav Varadinov (some of which pay tribute to Salvador Dahli's style). It even comes complete with a built in bookmark, not something I have seen in a science fiction book before.

The story itself explores the posthuman condition and describes the lives of these people through the eyes of the Brain Doctor Nathi who hasn't been in a human body in five hundred years and exists as a posthuman artificial construct. He can not only back himself up but insert himself within a brain in order to carry out his work. When he attempts to heal a long term coma victim he finds something waiting there, an enigmatic sentient cyber being called a "Wish Fairy" whose whole existence is geared to destroying the "Wish". The Wish is a virus that is used by the ruling "cyber wizards" as a means to control the posthuman population and even Nathi himself is infected.

Once liberated, Nathi manages to form a symbiotic relationship with the Girl and discovers the true cause of her brain injury. He must find a way to break out of their high-tech Martian prison, and resist the cyber wizards who are trying to remotely regain control of their minds while also sending a force in pursuit. The ensuing battle includes a massive space fight in the physical world and an equally impressive one in the mind along with flashbacks giving a good solid back story.

Leonid creates this vision of the future with a real passion and very detailed informative explanations of the technology used, the quality of the prose is superb and works very well, unlike many hard sci-fi stories the technology is conveyed in such a way as to be easy to understand and manages to avoid bogging down the plot. You are immediately drawn into Nathi's world and escape is just about impossible until the story ends.

This is a very detailed, daring and quite brilliant exploration of the posthuman condition that manages to convey the emotional journey that technology could inflict on the human psyche, examining the very nature of consciousness, emotion and the loneliness of existence.

This book is one of the most impressive works of literature I have read in some time, both utterly original and technologically head-spinning, the pace is relentless and the prose almost poetic in places with a real sense of grace and emotional power. Pink Noise is the explosive birth of a new star in science fiction.
Written on 19th November 2010 by Ant .
You may also like