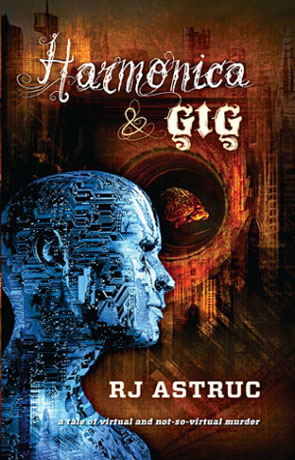 Book details
Harmonica and Gig

Publisher:

ISBN:

Published:

July 2011

Pages:

Format reviewed:

E Book

Review date:

27/09/2011

Language:

English

Age Range:

N/A
About the author
When a territory engineer dies in suspicious circumstances, three qverse experts are brought in to investigate. Initially the three hacks choose to work separately on the case, but as they continue their investigations they discover clues leading to some of the most powerful figures in the qverse. Soon the hacks realise they are more than just investigating the crime, they are part of it, and part of an even greater scheme to unbalance the long established foundations of the qverse itself.

Back in October last year I reviewed A Festival of Skeletons, an unexpected delight that had an abundance of energy and clever wit. Harmonica and Gig is the second novel by that author and while this is less comic caper it still has that same style, a dry, intelligent wit that you just can't help but be swept away by.

This novel is very much a post-cyberpunk detective story, a lucid vision of the future where cyberspace - known as qverse - is a reality and a constant battle wages between security and hackers. The detective angle works very well within the high-tech backdrop and the plot features a number of genuine suprises, including the actual finale.

I do love Astruc's style of writing, there is just so much energy and life to the narrative that you just can't help but be hurtled along with it. The quality of the prose is top notch and the story is told without too much techspeak or hard scifi descriptions making it easy to read and pretty fast paced throughout.

What really stands out though is the characters, the strong feminine female lead of Harmonica works fantastically well - full of real strengths and weaknesses, while Gig acts as a very effective male counterpoint, young and naive where she is older and wiser (at least sometimes). The supporting cast are also just as beguiling and very colourful, even if they do fade into the background a little against the bright lights that are Harmonica and Gig.

I also loved the vision of the future presented here, the technological descriptions are visually acute, inventive and yet at the same time quite plausible. Set in a post-Australia that has become a part of South Asia, the resultant mixture of cultures and races provide an evolution in social concepts as much as technological ones.

Harmonica and Gig is a seriously good novel, dynamic, lucid with a copious amount of style, this is one story that I will remember for some time.
Written on 27th September 2011 by Ant .
You may also like