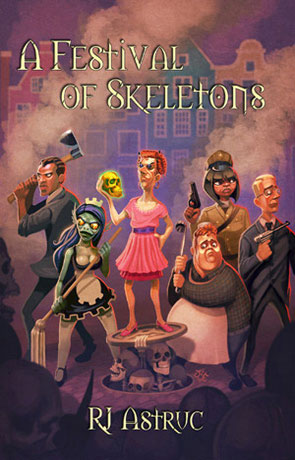 Book details
A Festival of Skeletons

Publisher:

ISBN:

Published:

December 2010

Pages:

175

Format reviewed:

Hardback

Review date:

06/10/2010

Language:

English

Age Range:

N/A
About the author
A Festival of Skeletons is a dark comedic fantasy novel by RJ Astruc.

At such rare times of self-doubt, Sink usually fell back on his old adage: What I see I cannot change. But in the aftermath of the massacre it sounded somehow hollow. The merkind hadn't been right but she hadn't been far wrong.

Fate relied on Sink being a bitter, jaded man. It relied on his hesitance, his resignation. What had Vona whispered to him before they'd parted ways?

"You can't change the future, Mr. Sink, but you can surely change yourself."

This book was quite unexpected, a very witty and clever novel that just oozes charm and hasn't made me laugh so much since I last read a Pratchett novel.

It's also quite quite mad, the principal protagonist - Mr. Ebenezer Sink, is shall we say "eccentric" and a cross dressing Mortician who has a few very unusual magical gifts. The principal gift being he can tell when, where and how someone is going to die, to the very last second. At this point I should explain that the novel is set in an alternative world of Kamphor where magic and mythical creatures are commonplace and humans live alongside other races such as Merfolk.

The Kingdom of Kamphor has problems, chief of these being that reports of the dead not staying dead are cropping up more and more frequently, while a serial killer lurks around making sure their are plenty of dead available to come back to (un)life.

The stars of the show really are the colourful and sometimes hilarious characters, such a bunch of miss-fits you could ever hope to meet, each has their own unusual problems and foibles, all brought to vivid life with their back stories slowly played out as the story progresses. This method of fleshing out each character is done very well and really keeps you hooked into the plot.

A Festival of Skeletons is like a love child of Terry Pratchett and Robert Rankin - a pacy, intelligent comedy novel that's crazier than a cat on catnip, with excellent characterisation that doesn't take itself too seriously. Highly recommended.
Written on 6th October 2010 by Ant .
You may also like