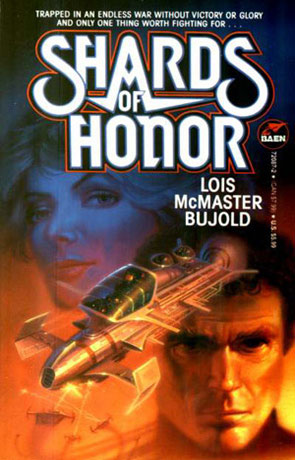 Book details
Shards of Honor

Series:

Vorkosigan Saga

Publisher:

ISBN:

Published:

2000

Pages:

272

Format reviewed:

Paperback

Review date:

01/08/2001

Language:

English

Age Range:

N/A
Books in the series
About the author
Shards of Honor is a novel in the Miles Vorkosigan Adventures by Lois McMaster Bujold.

This is the first book by McMaster that I've read that isn't about Miles Vorkosigan. It is about Miles's mother and father and the story of how they met and fell in love.

Shards of honor takes place during the Betan/Barrayaran war, but Bujold never looses her grip on the characters and keep them central to the story and the war becomes something of a background tapestry to the central story of Cordelia and Aran Vorkosigan. Bujold manages to make a few points about war and its nature without sound to banal and idiotic (the basic truths about war are so simple that you can't say them with out sounding like an idiot).

Not only a good read in it self, but also excellent background reading for the Miles books.
Written on 1st August 2001 by TC .
You may also like