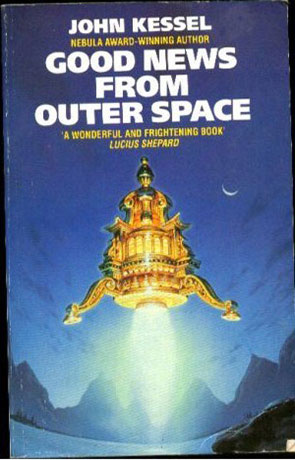 Book details
Good News from Outer Space

Publisher:

ISBN:

Published:

1989

Pages:

416

Format reviewed:

Paperback

Review date:

19/01/2002

Language:

English

Age Range:

N/A
About the author
Good News from Outer Space is a science fiction novel by John Kessel.

This probably the strangest book that I've read in a long time. Taking place in the last days of 1999 the book is mostly about faith run amok. Kessel paints a picture of an alternative timeline that's dark and that I do not care for at all. I'm not sure that Kessel wrote this as an alternative timeline story, but it reads as that this close to the time of the story (the book is copyrighted 1989) – luckily things turned out differently. (P.S. Kessel mailed me and said that he wrote it as "predictive satire").

George Eberhart is a reporter for one of the biggest tabloid new agencies (all the news agencies are tabloid compared to what we have today, the motto of the news agencies seem to be something close to "It doesn't matter if it's untrue, as long as it sells"). George is convinced that there's an alien on earth, trying to destabilise our civilisation – not that it seems necessary to help the destabilising already in process.

The Reverend Jimmy-Don Gilray is convinced that God will send a messenger to earth, set to arrive on January 1th 2000. They may both be right – maybe the alien is the messenger and maybe the messenger is not from God, but from hell.

Like I said – this is a dark story, some places it quite funny in a depressed kind of way, but mostly it's dark and bleak. If I had read it ten years ago it probably would have scared me silly.
Written on 19th January 2002 by TC .
You may also like