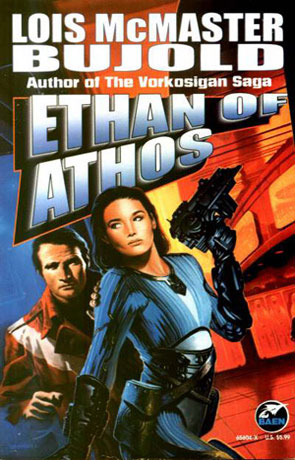 Book details
Ethan of Athos

Series:

Vorkosigan Saga

Publisher:

ISBN:

Published:

1986

Pages:

256

Format reviewed:

Paperback

Review date:

03/10/2001

Language:

English

Age Range:

N/A
Books in the series
About the author
Ethan of Athos is a science fiction novel by Lois McMaster Bujold.

Never having seen a woman in his life, Ethan is in for quite an eye opener when the first woman he meets is Elli Quinn of the Dendarii Mercenaries. As a good Athosian he tries his best to stay clear of her, but after a small misunderstanding, which makes the local authorities want arrested him for murder and a more shady character want him dead, he need all the help that he can get, even if it is from a woman.

Bujold has quite a lot of fun with Ethan and his "fem-phobic" look at the world and manages to stay on the knife edge between feministic sexism and eh... more sexism. And all the while keeping up a pace that can take the breath from the most hardened action adventure fan. Lots of good jokes, lots of action and Ethan is a character that you just have to like, no matter how limited his world view is. I didn't miss Miles Vorkosigan one second.
Written on 3rd October 2001 by TC .
You may also like