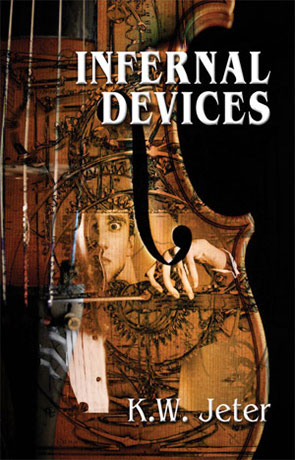 Book details
Infernal Devices

Publisher:

ISBN:

Published:

April 2011

Pages:

352

Format reviewed:

Paperback

Review date:

19/08/2010

Language:

English

Age Range:

N/A
About the author
Infernal Devices is a steampunk fiction novel by K W Jeter.

INFERNAL DEVICES-K.W. Jeter. Oh dear reader, the book I have just read flamed the mind with it's fancy and mystery to make the fragile bones of my pudenda quiver with delicate joy such that I have never felt afore!

Goddam what a book. This is like H.G. Wells with the H.P. Lovecraft descriptions of darkness run thru the mind of Sherlock Holmes writer Doyle. In England a certain Dower had a Sr. who built watches and infernal devices, one was a mechanical church that had bows and spinning knobs that resonated human voices from clergymen who offered sermons and communion. Young Dower is given an old device of his fathers that has the perplexing properties of a device without use, well made....but is in demand as someone tries to steal it. It leads him around a mystery behind somes inconclusive riddles that spin his head (and the reader) into more conundrums.

This mystery takes him to a borough of London where everyone seems to be related to a Saint Monkfish. A coin he is given as payment to repair the useless device has the patron Monkfish as resembling a carp. Everyone in this district looks like one too. 'Green Girls' seem to be the prize for the jaded elite in this borough and from the scandal comes "The Royal Anti-Society", Molly Maude's Whores, "The Godly Army" and more. It's about as screwy as it gets, complete steampunkery, with a duo who are scamming their way across the land thru an entirely different set of devices... Pure joy to read in it's wordings and over the top coincidences so well constructed I couldn't set it down without getting an automatic headache from the id. Must read.
Written on 19th August 2010 by number 6.
You may also like