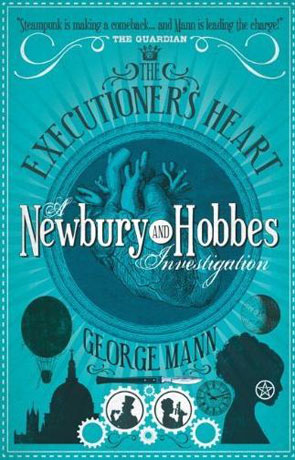 Book details
The Executioners Heart

Series:

Newbury & Hobbes

Publisher:

ISBN:

9781781160053

Published:

July 2013

Pages:

336

Format reviewed:

Paperback

Review date:

30/07/2013

Language:

English

Age Range:

N/A
Books in the series
Immorality Engine
The Osiris Ritual
About the author
The Executioners Heart is the fourth novel in the Newbury and Hobbes series and follows on from the events of The Immorality Engine - although you don't need to have read that or any of the previous books to enjoy The Executioners Heart. The Queen's agents Sir Maurice Newbury and Miss Veronica Hobbes are once again called on to assist the Chief Inspector of Scotland Yard, Sir Charles Bainbridge as he investigates a series of brutal murders whose only link appears to be that each victim have had their chest cavities cracked open and their hearts removed.
The characters of Newbury and Hobbe's are one of the things that really bring this series of steampunk tales to life, these intrepid detectives make a brilliant pair, much in the style of the classic Sherlock Holmes. The actual use of steampunk technology is nicely underplayed by the author - managing to act as a suitable backdrop without becoming too overpowering. There is an easy grace to the narrative which helps to make the novel a really easy and enjoyable read.
When combined with the strong characters and clever plot it becomes a book that is quite difficult to put down. The background to the series is also incredibly rich with political intrigue, foreign and domestic secret service agents and the impossible figure of the seemingly immortal Queen Victoria herself, all suitably dark with an even darker story. One of the highlights on the novel is the way the author gradually describes the killers life from orphan to killer for higher - providing an insight into the motivations and desires. These forays break up the story quite effectively while also adding to the dark ambience.
While there is little exposition for those readers not recalling or not having read the previous exploits of Newbury & Hobbes the characters and plot are strong enough to stand up on their own quite comfortably. Regardless of it being your first foray into Steampunk or a regular visit, this book should impress equally. I enjoyed he Executioner's Heart from start to finish and could barely put is down - including the quite dramatic ending - a real shocker that will leave you eager to see what happens next. The strongest novel in the series so far, Mann really seems to have found his stride with confident prose and a solid story.
We've also managed to catch up with the author for an interview, which you can see here: Interview with George Mann.
Written on 30th July 2013 by Ant .
You may also like