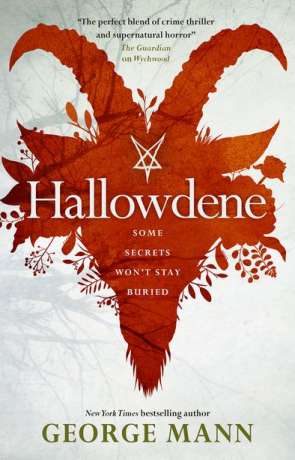 Book details
Hallowdene

Publisher:

ISBN:

978-1783294114

Published:

September 2018

Pages:

400

Format reviewed:

Paperback

Review date:

26/10/2018

Language:

English
About the author
Hallowdene is the second book in the Wychwood series, a crime thriller that weaves into the story supernatural elements. Elspeth Reeves is making a new life for herself in a quiet, sleepy village near Oxford, having escaped the hectic life of London. As a journalist for the local paper, she is often involved in events around the area. One such annual event known as Hollowdene is fast approaching when she is called to report on an excavation of the body of three hundred year old witch Agnes Levett. A notorious local figure, her body was buried under a huge rock that legend says prevents her from returning to seek her revenge. Shortly after the rock is removed and the body exhumed, DS Peter Shaw is called to invetigate an alarming death.
Hallowdene and the Wychwood series are set in a number of fictional villages in Oxfordshire, all bordering on the ancient forest of Wychwood. The book reads like a modern episode of Midsomer Murders / Chief Inspector Barnaby but with a fantasy twist. You can imagine Elspeth and Peter being joined by Tom, or John, which does beg the question - why are these little villages so violent. It's been suggested that Midsomer has a murder rate equivalent to that of Chile or Latvia.
I love the way the author injects folklore and old British myths into a crime drama, it feels prefectly placed and underplayed. There aren't spells, fiery deamons or projectile vomiting children and for the most part you can believe that these murders are simply being carried out by people without extenal influence. The author manages to play on this ambiguous, nuanced style throughout the book, keeping the reader guessing if there is really anything supernatural going on.
The author has also excelled at the depiction of a sleepy, rural village, complete with colourful characters and complicated relationships. There is even the eccentric local, warning of doom should the rock be moved. It's an easy reading, engaging book with a steady pace - I read it in one evening and it held me in it's grip almost all the way through. 
The emerging relationship between Elspeth and Peter works well, although there is a part in the book where Elspeth goes back to London for a party that didn't really work for me. It felt a bit clunky and shoe-horned into an otherwise smooth plot. The story is engaging, even if it was entirely predictable. There are some interesting messages of how wrongs done in the past have a habit of returning to haunt the present, along with a study of human behaviour.
Hallowdene blends classic crime fiction with modern writing and a wonderfully underplayed element of the supernatural, perfect fiction for the lengthening nights in front of a warm fire. 
Written on 26th October 2018 by Ant .
You may also like