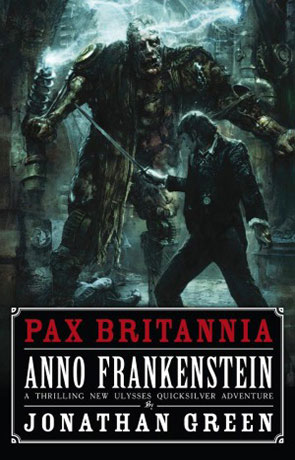 Book details
Anno Frankenstein

Series:

Pax Britannia

Publisher:

ISBN:

9781907519451

Published:

May 2011

Pages:

336

Format reviewed:

Paperback

Review date:

31/05/2011

Language:

English

Age Range:

N/A
Books in the series
El Sombra
Human Nature
Leviathan Rising
Unnatural History
Awards won
Anno Frankenstein is a novel in the Pax Britannia series featuring the intrepid adventurer Ulysses Quicksilver.

In this alternative universe, Magna Britannia is the undisputed superpower of the world whereas since the second great European war, Hitler's Nazi party has been reduced to the status of an underground terrorist movement.

Seventy years ago things were very different, the Nazi's were at the very height of their power and controlled much of Europe - leading an inexorable march towards the Britannia and Russian fronts. Magna Britannia is poised to unleash it's unstoppable army of Automata and the Germans find their resources stretched to the limit, if they are to survive they are going to need a miracle.

A traveller from the future brings them just what they need, fire from the heavens that has no right existing in 1943 and could alter the course of history forever. Ulysses Quicksilver follows this time traveller back and finds himself in Anno Frankenstein where the bodies of the fallen are reconstructed and resurrected that they might fight again. Miles behind enemy lines, he must infiltrate the most heavily-defended fortress on the planet, and there face an age-old enemy one last time.

Should he fail, history will be re-written and Ulysses Quicksilver will cease to exist, along with all his incredible accomplishments.

I haven't read any Pax Britannia before and after reading this I am actually wondering why, it's a mesmerising alternative universe that manages to blend Victorian era Steampunk within a more modern setting and with a resulting richly detailed world that keeps enough real elements to suspend the disbelief while still clearly being very different. There is a real dark edge to the novel but this is lightened by the clever use of subtle humour (the author is also clearly a star trek fan) while the plot bounds along at breakneck speed. It's another of those books that I just couldn't put down and read nearly the whole novel in one sitting.

The book manages to successfully blend steampunk with James Bond, Nazi's, Frankenstein monsters and even the old anti-hero(s) Jekyll and Hyde topped off with a slight hint of the Alan Moore League of Extraordinary Gentlemen. This fusion of disapparate elements works surprisingly well, not least due to the light-hearted and pervasive humour and intelligent characterisation, which isn't just confined to the protagonists - the antagonists too are wonderfully coloured and richly portayed.

There is an almost movie-like, visually acute style to the prose that really drags you in to the story and the relentless, energetic pace doesn't let up through the whole of the novel. The story too is very engaging with plenty of action and a tight dialog.

Anno Frankenstein is a rambunctious, effevescent story full of Victorian steampunk grandour and James Bond style action, suitable for anyone with a pulse.
Written on 31st May 2011 by Ant .
You may also like