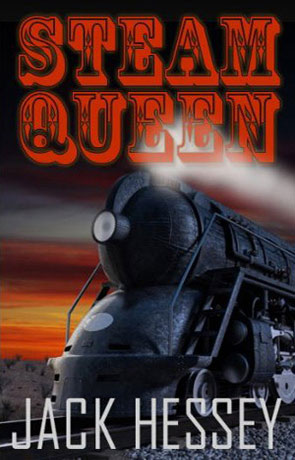 Book details
Steam Queen

Publisher:

ISBN:

Published:

November 2010

Pages:

Format reviewed:

Hardback

Review date:

29/12/2010

Language:

English

Age Range:

N/A
Awards won
About the author
Steam Queen is a steampunk novel by Jack Hessey.

Europe is a lawless country where armed bandits prowl the vast network of railway lines in heavily armed steam trains looking for easy marks. Heavily fortified mercenary engines travel from town to town looking for work in a world where every day is a struggle for its civilians.

Erica, an emotionally disturbed girl from England finds herself joining one of these mercenary teams. What follows is a trek across Europe to where two mighty cities, each representing a different way of life, stand on the verge of a war which will shape the way Europe develops.

On one side are the Steam using traditionalists of St Vith, led by the charismatic and cunning General Roosje Cuvelier. On the other, stands the mighty Winterscheid Diesel Empire under the iron fist of the merciless Kaiser Sigmund Eisenburg.

Two vicious armies, treachery from her own allies and the world's deadliest super-weapon are just a few of the dangers that Erica must face in her journey.

Steam Queen is a quite unexpected read, it's a lively, energetic tale of an alternative Europe where steam power rules and there are no major nations, but pockets of civilisation which are largely ruled by the most powerful, and the most ruthless. The story revolves around the young woman Erica who has emotional development issues and see's the world differently to most, to her it's a very black and white world where any wrongs should be punished appropriately (usually by a sliding degree of violence) yet having to cope in a world that doesn't share her outlook, where everyone are drawn in shades of grey.

The character of Erica is wonderfully realised, and you are very much drawn into viewing the world through her eyes. The character very much reminds me of Mark Haddon's novel "The curious incident of the dog in the night-time" (which I do also highly recommend) with a very uncluttered good and bad view of the world. In Erica's case this is largely solved by the application of violence with the help her two best friends "Mr Slice" and "Mr Pop-Bang".

The other main characters are also quite intriguing but the focus is very much on Erica, as such the details about everyone else are limited to the essential to ensure the feel like real people and not simply two dimensional.

The world building is sufficient to give you a real sense of a very different Europe and is described in elegant prose, although there isn't too much time spent meaning the plot stays fast paced and you aren't distracted or bogged down. The story of traditional steam versus the progress of the modern deisel contains a number of clear messages, nicely underplayed. The action is top notch with plenty of small and large scale fight scenes, I love the way the battles between trains are played out, simply genius.

Steam Queen is an original, captivating tale that is an effortless joy to read, regardless of wheather you like steampunk or not you should enjoy this book, highly recommended.
Written on 29th December 2010 by Ant .
You may also like