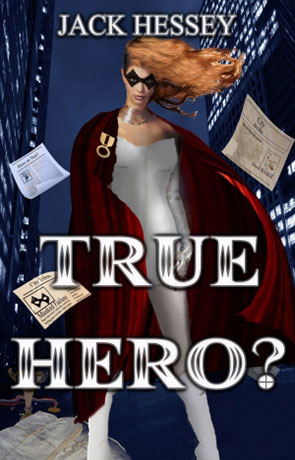 Book details
True Hero

Publisher:

ISBN:

9781937085025

Published:

July 2011

Pages:

346

Format reviewed:

E Book

Review date:

10/10/2011

Language:

English

Age Range:

N/A
About the author
Stella Stargirl has it all; fame, fortune, countless adoring fans and a position in the world's best superhero team - The Empire, led by the super hero Lancaster. The truth though is that Stella is little more than average and it's by standing on her team mates shoulders that's gained her all the glory while they did most of the actual work.

When all the superhero and villain's super-powers disappear overnight Stella decides it is time to put aside her self-doubts and show the world that fraud or not, she can be a true hero.

Jack Hessey's previous novel Steam Queen was firmly rooted in the steampunk genre, a wonderfully written tale of train based combat with a seriously impressive plot. With True Hero the author turns his attention to the superhero genre, imagining a world were those gifted individuals are not only real but appear in abundance.

Hessey uses the same intelligent and yet simple style to create a vibrant alternative universe inhabited by colourful and larger than life super hero characters - some of which even have agents in the same way film and music stars do (which seems fairly logical when you think about it). This is essentially used as a vehicle to explore how stars (and their public) are manipulated by some agents and press, how people can be controlled by such measures and ultimately what it really means to be a hero (and I don't mean wearing underpants on the outside).

There is limited backstory or world building, instead the focus is very much on story and character, resulting in a fairly speedy pace, which is helped by the uncluttered dialogue. The action sequences and fights are handled particularly well both lucid and dynamic which paints a clear and energetic picture for the reader.

I really enjoyed this novel, it's one of those really easy reading books that any age range can enjoy equally; with a great cast and an inventive story that is simply lot of fun, recommended.
Written on 10th October 2011 by Ant .
You may also like